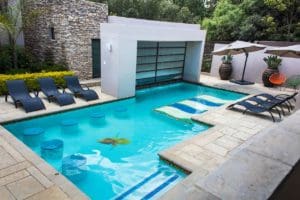 Aronia Day Spa was developed as a sanctuary to help guests remember that nature surrounds us, lives in us and that we live in nature. Aronia invites guests to remember how pure life can be through a blend of spa traditions in modern luxury settings.
The hydro facility erases stress and is as close as you can come to a fountain of youth. You can choose from an impressive range of signature massages, including raindrop therapy, a soul element massage as well as udvartana ayurveda (inspired by ancient Ayurvedic practices, the body is massaged with a blended ubtan mask of natural ingredients and oils).
Aronia's romance with nature continues through their facial rituals, with advanced chemical and laser treatments also available. Complete your experience with a manicure and pedicure with essential oils. In these treatments, your hands, feet, legs and arms are massaged to reduce pain and nourish dry skin and promote healthy amd bright nail growth.
Aronia Day Spa is an award-winning spa experience with budget-friendly spa or couple packages that are a must try.
When: Mon – Fri 8.30am – 7pm | Sat 8.30am – 6pm | Sun 9am – 5pm
Where: 9, 11th Avenue. Houghton, Johannesburg
Website:  www.aroniadayspa.com
Email: spa@aroniadayspa.com
Tel: 011 447 1204 
Facebook : Aronia Day Spa
Instagram: aronia_day_spa