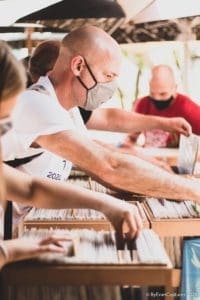 Whether you're into pop, rock, reggae, or blues, you can't beat the authentic sound of vinyl. Pretoria's monthly vinyl record market is definitely worth a visit for hardcore collectors, newbies to the scene, or just discerning musos.
Menlo Vinyl Record Fair at Capital Craft has a hefty library of pre-loved music that has something for everyone. Buyers can leaf through a limited edition release from bygone local bands or acts, a broad range of genres, and if lady luck is on your side, score a rare first press or secure those one-off pieces for expanding your record collection.
The staff are passionate and have expert knowledge of all things music. There's also a listening station to explore the releases before purchase.
The market is also a great platform for those looking to sell their collection to like-minded fans.
Once you're done, tuck in on Capital Craft's unbeatable burgers. The space is also the go-to for hardcore craft beer fans thanks to a large library of local and imported beers and the laid-back vibe. 
Cost: Free
When: First Sunday of every month. From 10:30am to 2pm
Where: Capital Craft, Shop No. 20, Greenlyn Village Centre, Cnr Thomas Edison & 12th Street East, Menlo Park, Pretoria
Email: westrandvinyl@gmail.com
Tel: 071 143 9150
Facebook: @westrandvinyl
Instagram: @capitalcraftpta