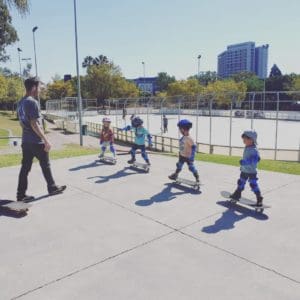 Whether you're a beginner, a pro or somewhere in between, when it comes to skateparks, Thrashers Skate Park in Pretoria has got you covered. 
This skate park located in Garsfontein is consistently considered to be one of the best parks in the city that has a bit of everything for everyone. With bowls, rails, quarters and banks plus lines for days, overall it is a fun park. 
Thrashers was built in 1996 and has been home to many of South Africa's skateboarding legends past and present and has become an institution in the Pretoria skate/alternative scene.
Thrashers provides a fully accommodating venue for skateboarding, BMX, rollerblading, aggressive skating, inline hockey, roller derby and grass hockey.
The skate park boasts many transition and street obstacles including ledges, stairs, a fun box, pyramid, two quarterpipes, death ramp, as well as a mini-ramp and the new manual pad ledge feature. They offer private skateboarding and rollerblading lessons on Saturdays during opening hours.
Cost: R50pp for participants, R25pp for spectators. R300pp for once-off lesson, R800pp for 4 private lessons
When: Monday to Sunday, 9am to 8pm
Where: 241 Serene Street, Garsfontein, Pretoria
Website: thrashers-skatepark.co.za
Email: info@thrashers-skatepark.co.za
Tel: 063 758 1694
Facebook: @thrashersskateparkpta
Instagram: @thrashersskatepark