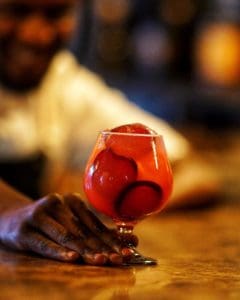 You can't be in Joburg long enough and not know about Sin+Tax. As with most speakeasy bars, the hipster-ish street exterior and edgy artwork is just a front. Because what lurks inside is an unpretentious cocktail bar in Rosebank that specialises in a world-class cocktail experience exclusive encounter in our City of Gold.
Their signature is experimental cocktails crafted with precision by an expert bartender team, using the freshest ingredients.
Great for after-work drinks or date night, the industrial-chic mood at Sin+Tax promises a more intimate setting where cocktails of all varieties are served in a cosy space with stylish seats and moody lighting, A small courtyard space is also open for those balmy Jozi evenings.
The bar consistently ups the ante for South Africa's cocktail scene by pushing the boundaries of innovation and attention to detail, Sin+Tax is the only bar on the African continent to make it into the World's 50 Best Bars in 2019.
Address: Corner of Bolton and Jan Smuts Roads, Rosebank, Joburg
Website: sintaxbar.com
Email: sintax.jhb@gmail.com
Tel: 010 900 2559
Facebook: @sinandtax
Instagram: @sin_tax_bar