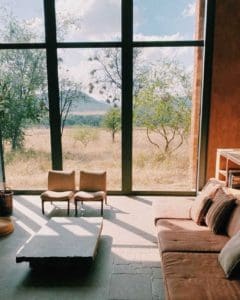 A sustainable getaway is more than just trendy travelling, it's the way we should all start thinking about how we travel and connect with spaces. Witklipfontein, less than a 2-hour drive away from Joburg, is one of the original farms of The Vredefort Dome, a Unesco World Heritage site.
The Huyberechts Family acquired the property in 2013 driven by a desire to highlight nature and the essentials of life in Africa. With 215 hectares of diverse scenery of plains, hills, a kloof, a spruit and dams, the farm is of breath-taking beauty and tranquillity instilling a sense of peace and wellbeing.
Witklipfontein's stay options include a contemporary villa housed on the game farm with the wild animals roaming free around the house. This space can accommodate up to 10 guests.  The architecture stays true to a total connection with the surrounding nature with its high ceilings and fully openable windows.
A visit to the farm includes family-friendly access to the permaculture vegetable garden, fresh farm eggs, interactions with the goats and horses and of course hiking on the territory of giraffes, zebras, various antelopes, warthogs, and other human friendly animals.
Advance reservations are essential, please call or email to make a reservation or visit the website for more information.
Where: Witklipfontein Farm, Schoemansdrift Road, Vredefort District
Website: witklipfontein.co.za
Email: admin@witklipfontein.co.za
Tel: 076 077 63 33 or 065 912 64 52
Facebook: @witklipfontein
Instagram: @witklipfontein