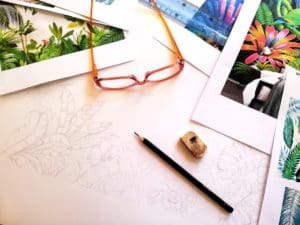 On the first Saturday of every month, graphic-designer-turned-artist and Therapeutic Art Life Coach Jenny Mallon hosts an art session inviting women to destress and enjoy some creative me-time.
Jenny is offering time and space where participants can commit to themselves, focus on being creative, and benefit from taking time out by taking part in either a therapeutic art session or working on their own pieces. Jenny is there to teach, support and offer advice on the techniques and skills needed.
During the three hours, ladies can paint, draw or do some therapeutic art exercises. It's an opportunity to make new connections while enjoying being in the outdoors. It's perfect for those who cannot commit to a weekly class because of busy schedules and time constraints.
If needed and at an extra cost, materials can be provided. This includes an A3 canvas panel, acrylic paints, brushes. The ticket price includes coffee, tea champagne and a treat.
Jenny has done portraits of people, abstracts for large and small spaces, large scale Renaissance-style paintings for hotels, wall murals for homes and for businesses, projects for schools, and she's worked for several paint studios. She wants to help others break through the challenges getting in the way of their creative expression.
Venue: President Ridge Ext 6, Randburg
Time: 9.30am to 12.30pm
Cost: R350 to R425
Tel: 082 371 4664
Email: jenny@jennymallonart.com
Website: www.jennymallonart.com
Facebook: Art in the Garden| @jennymallonart
Instagram: @jennymallonart