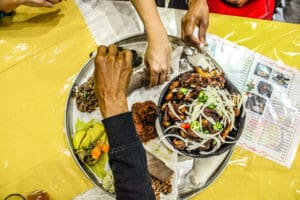 Honest Travel Experiences presents 'Taste of Africa', a Johannesburg food tour taking people on a journey across the continent by introducing them to the different tastes found in the diverse neighbourhood of Yeoville.
Participants take a historical guided walk down Rockey Street in Yeoville – the cultural melting pot that remains part of Johannesburg's inner-city heartbeat. Here they are tempted with many traditional dishes reflecting the traditions and customs of the many migrants that used to live here.
The local guide leads participants to places such as Malalahitoka for traditional Ghanaian Wat, Kifto, Injera, Pondu and Kwanga. Mama Osu is a popular Nigerian stop for Akara and Killshi.
This is a regular event happening Fridays and Sundays.
Venue: 52 Pietersen St, Hillbrow, Johannesburg
Time: 4pm | 4 hours duration
Cost: R460
Tel: 072 640 5704
Email: honesttravelexperience@gmail.com
Website: www.honesttravelexperience.com
Facebook: Taste of Africa (Yeoville Food Experience)| @honesttravelexperience
Instagram: @HonestTravelExperience