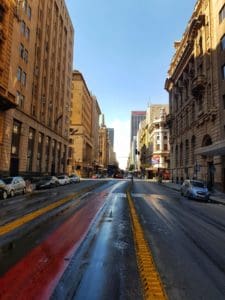 Time Traveller Jozi presents a walking adventure that goes beyond the well-known facts to uncover hidden tales of Joburg's lesser-known history.
The 5km walk starts three stories below ground level in one of the oldest preserved mine tunnels in the city -Ferreira's mine. At each stop along the way, walkers get to explore places and the characters that shaped the expansions of Johannesburg. The route takes walkers to the spot where Johannesburg was proclaimed – on a piece of 'uitvalgrond'. From there it goes to the bustling shops of Diagonal Street, ending off with the magnificent buildings in Commissioner streets and surrounds.
Along the way, the guide shares lesser-known facts and interesting tidbits like who was 'Pick Handle Mary', why 1920 was a great year for the ladies, how coffee and the first car is connected, what was the pyrite panic that left the town deserted in 1890 and was there a Jack the Ripper in Joburg. They stop for lunch at another Marshalltown gem: the Johannesburg culinary and pastry school.
Participants can expect many hidden nooks and crannies, history, anecdotes and a lot of fun on tour.
The tour is 4 hours long.
Venue: Newtown Junction, 100 Carr Street, Newtown, Johannesburg
Time: 10am to 2pm
Cost: R200
Email: janet@timetravellerjozi.co.za
Website: www.timetravellerjozi.co.za
Facebook: Johannesburg Walking Adventure: The Hidden History Exposed!| @timetravellerjozi