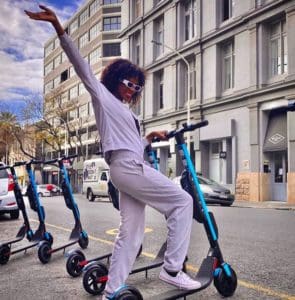 Electric Life Rides launches South Africa's first Electric Scooter, Motorcycle & Vehicle Renting Hub for the public to explore the City of Gold.
The Uber-type rental service offers a unique urban activity on the Electric Kick Scooters.
Users can get started by downloading the Electric Life Rides mobile app or scan a barcode on the kick scooter to activate it. Once the riders complete the process, they can pick up a scooter at one of the local pickup/drop-off zones.
The scooters are powered by electric micro technology suited to complement smart cities and enhance eco-friendly commuting in public spaces. Each vehicle has a built-in tracking system that easily identifies each rider, allowing them to explore the city with added security.
Users are able to purchase ride credits directly through the app by using a bank card. This offers a recreational service to the public, and the tech company is expanding the niche electric mobility market into commercial and tourism sectors as well. 
Tel: 087 135 2942
Email: support@electricliferides.com
Website: electricliferides.com
Facebook: @electricliferides
Instagram: @electricliferides