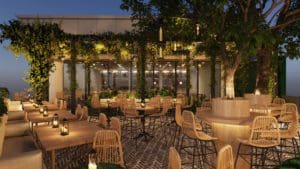 Vibe seekers rejoice, The Greenhouse Bar is bigger, better and greener than ever.
Due to its enormous success, the well-loved The Greenhouse Bar has decided to move shop – or garden – from its current location in Rosebank to a bigger space in the heart of Sandton where it will be neighbors with the likes of Taboo Nightclub, Solo Restaurant and more at 24 Central.
The new space will offer more social distanced outdoor seating and can accommodate louder music and stay open till 2am (once the Covid-19 curfew is lifted) making it even more suitable for epic nights out and the hosting of exciting and unique private events and gatherings.
Co-owned and conceived by nightlife maestro Chris Coutroulis of Taboo and entertainment entrepreneur extraordinaires, Heinz Rynners and Brad Cilliers of Babylon Bar and The Shortmarket Club, The Greenhouse Bar has been synonymous with an energetic atmosphere of celebration and good vibes since opening in late 2019. Featuring delicious modern tapas, inspired cocktails, live music from top SA musos and DJ's in a beautiful lush, plant-rich setting, the new space promises to deliver in the same vein, yet in an even more vibrant and spacious location.
Diners can expect some exciting changes to the interiors by designer Tristan Du Plessis, a renewed focus on abundant greenery, including Greenhouse's signature hanging plant ceiling will be backed by vibrant wallpaper and accentuated with pops of mustard yellow, contrasting with natural wood and jade-coloured marble.
Not only will the interiors be updated but there will also be some tantalising upgrades to the menu from renowned residential Chef Carolina Rasenti of The Great Eastern Food Bar.
The Greenhouse Bar favourites, such as the signature sushi, will still be on offer but the menu will also now include a selection of new grilled dishes.  Such as vegetarian dish; whole grilled aubergines, drizzled with olive oil and tzatziki as well as fresh salmon steak served with chargrilled broccolini.  There will also be some new intriguing variations on their fresh oyster offerings, such as a smoke-infused version.
A new bar snack menu will also be launched as to best compliment the world-class cocktail offerings and drinks.
The Greenhouse Bar offers the perfect office escape lunch spot during the day or a tantalizing date or party night option in the evenings in the heart of the city of gold or better yet… the city of green!
Venue: The Greenhouse JHB, 24 Central Mall, 6 Gwen Ln, Sandton, Johannesburg
Tel: 010 006 2323
Email: reservations@greenhousejhb.co.za
Website: www.greenhousejhb.co.za
Instagram: @thegreenhousejhb
Facebook: @thegreenhousejh