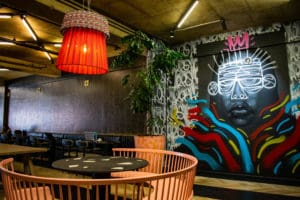 Thorn Restaurant, located on the ground floor of Hallmark House, is a beautiful venue in Maboneng.
Thorn boasts the best roasts. There's nothing quite like the smell of fresh coffee in the morning, surrounded by the chilled sounds of music, friends catching up over their favourite brew, and coming to the realisation that you'd rather pick a spot to work from for the day than be at your office desk.
Visit Jozi's favourite inner city remote workspace and enjoy free Wi-Fi, power, coffee and a fresh menu.
Venue: Thorn, Hallmark House Hotel ground floor, 54 Siemert St, New Doornfontein, Johannesburg
Time: Breakfast 6am to 11am | Lunch and Dinner 11am to 9pm
Tel: 010 591 2879
Email: info@hallmarkhotel.co.za
Website: www.hallmarkhouse.info/thorn-new
Instagram: @thorn_restaurant
Facebook: @HallmarkHotelMaboneng |