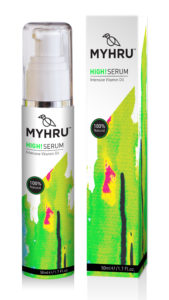 MYHRU offers skincare that is simple, natural, and transparent. The 'Myhrulosophy' is all about going back to basics: beautiful results can be effortless with just one product, sure to redefine your old skin routine. Get your skin glowing with this 100% natural skincare range featuring potent skin-loving ingredients.
MYHRU's power combo of Baobab and Marula oils compliment each other's superstrengths to create a beauty force fit for providing an easily-absorbed, preservative-free serum packed full of vitamins, omegas, and phenolic acids which nourish, fight ageing and dehydration.
Developed for all skin types – even oily! – this gentle, versatile serum also compliments any other cosmetic, and makes for a wonderful silky primer under foundation, for your glow-on-the-go. The bright packaging reminiscent of nature will keep you excited about the love and well-being of your precious skin!
MYHRU fresh-feeling products are full of life, the very ethos that makes them the ideal partner for the enigmatic singer and songwriter, Amanda Strydom who serves as ambassador. Use code AMANDA100 to score R100 off all purchases via their online store.
Where to get it: Find MYHRU's goods online here.
Website: myhru.co.za
Email: info@myhru.co.za
Facebook: @myhruofficial
Instagram: @myhru