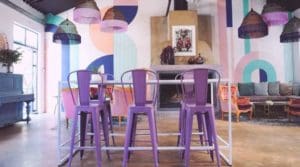 Billed as 'A Cute AF Dine Bar in the heart of Jozi', Peachy serves up delish cocktails, modern street food, and cold beer on tap with all-round good vibes. With 2020 being a more serious year than South Africans expected, there is a big need for innovative spaces to exist and just have fun.
This decadent bar and eatery are nestled in the hip surround of 44 Stanley on the border of Melville, and a short hop to both The Parks and Jozi city in either direction. It's a good fit for adults looking for an exclusive yet unpretentious place to have a drink, eat exceptional food, and hang out with like-minded individuals.
Don't leave without trying their Korean-style spicy wings, Pork Belly cubes in a tangy sauce served with a mint salad, or the vegan Shroom Arancini which is Gruyere and mushroom-filled deep-fried risotto balls.
Peachy brings a semblance of metro class back to going out, with properly administered Covid protocols and tight security to make sure customers come back again and again.
When: Thurs to Sat, 12pm to 10pm; Sun, 12pm to 7pm
Where: 44 Stanley, 144 Stanley Avenue, Joburg
Website: peachy.co.za
Email: info@peachy.bar
Tel: 063 210 3599
Facebook: @wearesopeachy
Instagram: @wearesopeachy