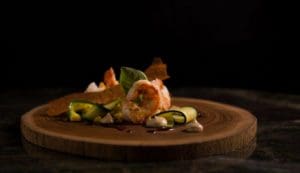 Wood and Fire is a must-visit steakhouse nestled in the buzzy surrounds of Brooklyn, Pretoria. The mood is intimate and dimly lit, with decor accents of rich, luxe colours and finishes. 
The restaurant's hearty menu begins with indulgent starters such as balsamic vinegar glazed chicken livers with spicy green pepper relish, pickled onions, and homemade melba toast, before moving on to Tom Yum chicken and prawn with coconut rice and charred corn; and a strong selection of wood-fired fillet, sirloin or lamb chops.
Seafood gets an occasional look in, too. And the menu isn't strictly steakhouse – brunch lovers can indulge in their breakfast offering, burger menu, and a few comfort food treats.
The drinks menu also shows a small selection of alcohol-free cocktails with innovative ingredients for dry living enthusiasts.
When: Monday to Sunday, 9am to 10pm
Where: Brooklyn Square, Pretoria
Website: woodandfire.co.za
Email: info@woodandfire.co.za
Tel: 012 346 2261
Facebook: @woodandfire.brooklyn
Instagram: @woodandfire_brooklyn