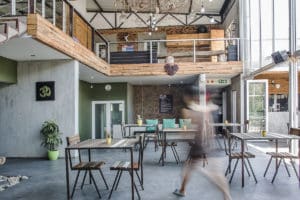 The Yoga Republic offers a variety of yoga styles in an eco-friendly studio. It's yoga for the green hearted.
The Yoga Republic – formally known as Bikram Yoga on Republic opened in Feb 2007 as a Bikram only yoga studio in Fontainebleau Village shopping centre.  In 2009, they extended to the shop next door – and evolved to become The Yoga Republic making a move to being more earth, animal and people-friendly. The new eco-space opened its doors in January 2013.
Vaastu Shastra was implemented in the architecture and design creating a natural and eco-friendly building where people can come to connect to themselves. All rubble during construction was either reused or recycled. Vertical gardens were introduced to bring nature into the studio and create a serene atmosphere. The Yoga Republic is 100% solar-powered during the sunlight hours.
In this sanctuary they offer yoga styles where yogis can sweat, work hard and be challenged, all the while creating more consciousness, and other styles help yogis relax, find their centre, align their entire body and reconnect spiritual to physical.
The studio has a green heart swim school with an eco pool free from chemicals, a green heart café with smoothies and juices, and a green heart health shop.
Further services include in-depth Soza whole-body screenings, homoeopathy appointments, and craniosacral fascial therapy.
Events and workshops are announced on their social media pages.
Address: 107 Gertrude Street, Fontainebleau, Johannesburg
Time: Seven days a week 5.30am to 7pm
Cost: 7 consecutive days 1st timer special R200
Tel: 011 791 6228
Email: studio@theyogarepublic.co.za
Website:www.theyogarepublic.co.za
Facebook: @TheYogaRepublic
Instagram: @theyogarepublic