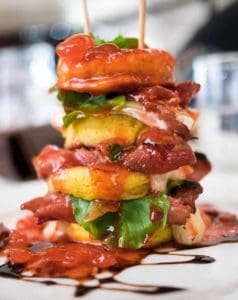 The Karoo Café offers a kind of habitat where they strive to achieve an environment that is conducive to living consciously, and where creative thought is expressed and encouraged.
During the day, the Karoo Café Restaurant functions as a tea garden or coffee shop. It is a relaxed stress-free environment similar to a comfortable living room where thinkers, writers, artists and ordinary citizens can come together and share thoughts or experiences.  At night the whole place transforms into something like a bush fairy tale with a romantic atmosphere.
It is the perfect place to kick back, read some books from their book shop or some of their magazines, admire the art on the walls, play board games till late at night or work from a laptop. There are wood fireplaces, wooden tables and soft couches where family and friends can come together around the cafés renowned coffee or dine on their breakfast, lunches or dinners.
The menu offers all-day muffins, croissants, chicken livers, a Gauteng breakfast or a Karoo Veld breakfast. Alternatively, there's a Karoo Lamb Burger, a Karoo Salad, a Karoo Lamb Chops and homemade quiches. All the dishes get served with mashed potato, squash and pan-fried veggies. There's even Banoffee pie for dessert.
The Karoo Café, managed by Mareli Robbertze, is at the heart of the creative hub on the premises called The Karoo Square. The Square consists of the Karoo Art House and Pottery Making Studio.
An ongoing objective of the Karoo Square community is to spread the knowledge and skills which flow from the creative processes of its different hubs. Regular workshops and classes are held where the useful results of experiments in sustainable architecture, pottery, art, horticulture, graphic and textile design, culinary art and other disciplines are taught.
Ecologically sensitive design and sustainable building are the guidelines in the development of the project. Juliana's Golden Mole, a red data list species thrives on the property and is fiercely protected.
An interesting feature of the café is the indoor aquaponics which gets used to grow fruit and veggies for the restaurant.
Address: 141 Lynnwood Rd &, Albeth St, The Willows 340-Jr, Pretoria
Times: Mon to Fri 8am to 5pm | Sat till 3pm | Sun till 1p
Tel: 074 834 4414
Email: info@karoocafe.co.za
Website: www.karoocafe.co.za
Facebook: @KarooCafeRestaurant
Instagram: @karoo_cafe