There is no denying that active and leisurewear are here to stay, and some local brands are elevating this trend by adding a South African twist. Whether you need high-performance activewear for running or gyming, practical and stylish garments for everyday life or comfortable clothing for being outdoors, you can find quality products while still supporting local.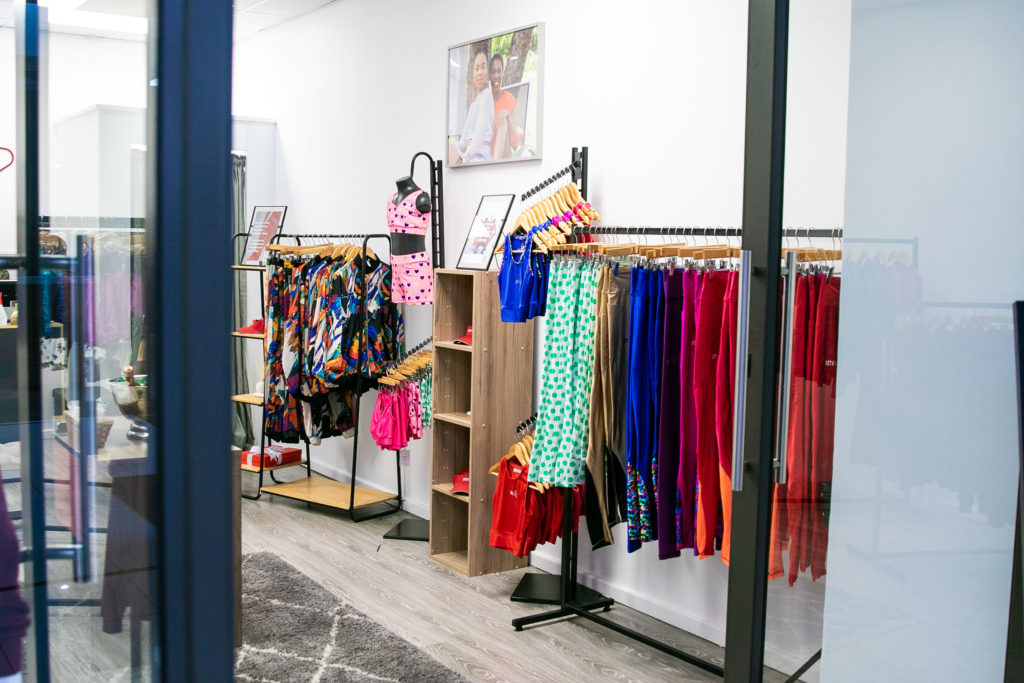 Athi is a fitness, lifestyle and experience brand who pride themselves on being proudly African, with all products being designed and manufactured in South Africa- and of course full of colour!
They know that the right attire that fits well and has cooling properties can prevent injury, minimise restriction, regulate and control body temperature, improve performance and boost confidence as well as motivation.
Their quality, durable activewear from tights and shorts for runners, gym, hiking and yoga fanatics as well as well-tailored casual wear like joggers, skirts, is truly for all. And if you are needing something specific, they also offer bespoke and personalised service to those who need it.
They are passionate about health and fitness, believing that physical activity impacts how we live, compete and succeed in life. Therefore, they promote and enable health and fitness for all through various fun and convenient activities as well as enabling everyone to look good with clothing that fits comfortably and has functionality. The outdoor fitness events they host often are an integral part of the brand ethos. The events promote health and wellness while providing a solution to those who need alternative ways to progress and stay fit in a fun environment that caters for all fitness levels.
Where to find them: Kyalami Corner Shopping Centre – Store Pop Up | Morningside Shopping Centre – Monthly Exhibitions
Website: athi.africa | Email: info@athi.africa | Tel: 064 969 6485
Facebook: @AthiHealthAndFitness | Instagram: @athihealthfitness
After nearly 30 years of being in the 'rag trade' Anke Scheffel, started Eco Threads in 2019 to create a range of clothing for the new woman, who loves ethical, local, versatile and functional fashion.
As a mom of 2 boys, a businesswoman, an outdoor, nature-loving person, a yogi and a surfer, she conceptualizes her garments around this lifestyle. Eco Threads Athleisurewear, is not only designed for yoga and other athletic activities but also to be worn in other settings such as the workplace, nature, hiking, casual and social occasions.
Eco-Threads strongly believe in natural, high-quality fabrics, like viscose and cotton lycra which are breathable and long-lasting and will eventually biodegrade, coming full circle back to the earth. Their tights, sports tops, dresses, dress shirts and jumpsuits are effortless and comfortable. Clothing with a classic touch that flows with fashion trends and makes you feel stylish, confident and beautiful.
Besides using sustainable materials they are also passionate about creating products locally generating jobs and uplifting people with all cutting, printing, embroidery and sewing done in Cape Town.
Website: ecothreads.co.za | Email:design@ecothreads.co.za  | Tel: 082 457 4123
Facebook: @EcoThreadsAthleisureYogawear| Instagram: @ecothreads_athleisure_and_yoga
Kim Harding, the founder of KH-Active has a desire to create and design elegant, yet fierce athleisure clothing to help you look and feel confident.
With the ethos of be you, be unstoppable, their clothing is designed to encourage women to take risks. Combining comfort with prints, natural colours and current athleisure trends, KH-Active performance clothing can mix and match with your everyday wear or be worn together to create a flawless gym set. However, you wear it you'll look bold and ready to tackle life.
KH-Active is proudly South-African with their current collection being inspired by the untamed wildlife in South Africa. Combining the natural colours with zebra print to inspire you to stand out, take chances and channel your inner fierce.
Website: kh-active.com | Email: info@kh-active.com |
Instagram: @kh_active99
London College of Fashion graduate Sally Winter, launched Rush Activewear in South Africa to provide high-quality fashionable activewear that you'll never want to take off.
Innovative activewear designed to provide comfort, style and functionality, Rush's garments will become your go-to all-day activewear. They've experimented with different patterns, materials and cuts, all with the idea of making women feel confident. The waistbands are thicker, the cuts are more flattering and the fabric is ultra-supportive to fit the feminine body.
Their new range of Wonderlux fabric garments are fast-drying, sweat-wicking and breathable with four-way stretch and added lycra fibre for stretch and holding its shape every time. Besides the tight, sports bras and tops, they also have fun jackets, swimwear and loungewear so you can feel comfortable and fashionable no matter what you are doing.
Website: rushactivewear.com | Email: info@rushactivewear.com | Tel:082 8218 600
Facebook: @rushactivewear | Instagram: @rushactivewear
Fitfanatic is an active lifestyle brand that advocates for active living, healthy living, and wholesomeness. Born through its founder, Amanda's, love of physical activity and the adventurous outdoors, the brand is all about inspiring individuals to reach beyond their limits.
They design and manufacture their trendy garments locally in a small town on the foothills of the Drakensberg. With a community of athletes from runners, hikers, gym freaks, golfers, and cyclists to those just trying to be more active, they have clothes for everyone. From tights, shorts, sports bras, and running jackets to their comfy joggers and hoodies you can find something that looks and feels great while encouraging you to live life unbounded by any fears or limitations.
The brand incorporates activities such as Hiking, Running, Hiking camps as well as their activewear apparel range, FitFanatic is a complete active lifestyle brand that is committed to supporting and cheering on all those who have chosen to live an active lifestyle.
Website: fitfanatic.africa | Email: info@fitfanatic.africa | Tel:076 604 7629
Facebook: @fitfanaticactive | Instagram: @fitfanaticactive
Macho & Minx is a small, proudly South African activewear business aimed at providing comfy activewear which not only makes women feel great but also supports local artisans.
The brainchild of a Mum of three who wanted to create a functional range expressing her fun and quirky nature and passion for exercise, Macho and Minx's clothing is comfy, practical and full of colour and crazy patterns. With so many options of legging including different waist heights, different lengths and designs, including a small pocket on the waistband for car keys or cash, these tights are good for yoga, running, gym, Pilates, hiking, walking or whatever activity makes you feel as bright and happy as the pattern you're wearing!
This vibrant range is truly South African with all fabric being sourced locally, with their ethos being that supporting the community and locals is the way forward. These beautiful patterns are made in Woodstock, the fabric is cut in Manenburg and the leggings are sewn in Retreat. Keeping the business small, local and personal underpins the Macho & Minx philosophy and in this spirit, they donate a portion of its monthly sales to support Mdzananda Animal Clinic in Khayelitsha.
Website: machoandminx.co.za | Email: hello@machoandminx.co.za | Tel:082 461 3137
Facebook: @MACHO-MINX- | Instagram: @machoandminx