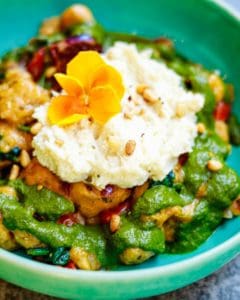 At Lexi's they are striving for the most sustainable, conscious, moral and nutritious way of living and eating.
They believe eating a vegan diet, limiting the use of plastic, sourcing locally and ethically is one way to chart the course to a better world. They encourage eating mostly plants, very little processed food and excluding animal products to the best of consumers' ability.
Not everyone's journey is the same. For this reason, they have added a few non-vegan items to their menu to accommodate those flexitarians out there. Whether you're vegan, vegetarian, batting, paleo or just a health nut, there's something here for you.
They've got a full house of breakfast options ranging from mushroom omelettes and choc chip flapjacks to tiktok oats and waffles. For a quick light lunch, there's falafel wraps, hearty soups and burgers. For a hungrier tummy, there's curries, stirfries and pasta. Healthy smoothies and cold-pressed juices are balanced with sweet treats.
Lexi's ethos and vision is to make a difference to South Africa (and maybe the world one day) in how people view plant-based food and lifestyle. To shift eating habits, create more conscious actions, mindful actions and effect a greater positive change. To do that you need to be inclusive, understanding and practical.
Address: Sandton – 24 Central, 6 Gwen Lane, Sandown, Johannesburg | Modderfontein – Flamingo Centre, Cnr Valley Road & Queens Str, Modderfontein, Johannesburg | Rosebank – Shop G26, The Zone, 177 Oxford Road, Rosebank, Johannesburg | Hazelwood – 20 16th Street, Hazelwood, Hazelwood, Pretoria, 0081 – 079 948 7378
Times: Mon to Fri 7.30am to 9pm | Sat 8.30am to 9pm | Sun 8.30 am to 3.30pm
Tel: Sandton 083 300 1210 | Modderfontein 083 300 1281 | Rosebank 083 385 5823 | Hazelwood 079 948 7378
Email: info@lexiseatery.com
Website: www.lexiseatery.com
Facebook: @lexiseatery
Instagram: @lexiseatery