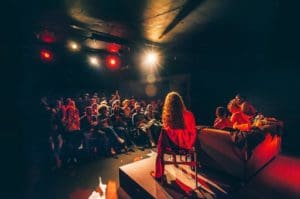 The POPArt Improv team is back – in real life – to bring some laughs from stuff made up on the spot before everyone's very eyes.
POPArt is a Johannesburg based independent production company and performing arts centre specialising in the Live Arts. P.O.P Art stands for People of Performing Art. They specialise in the creation, development, showcasing and promotion of new South African entertainment works and cultural products. Through the nurturing of quality work, we aim to elevate the global reputation of South African entertainment and entertainers, and promote art that makes a difference to society at large
Players for this live series include Toni Morkel, Avril Cummins, Anel Wood, Ncumisa Ndimeni, Hayleigh Evans, Mpho Osei Tutu, Eduardo Cachucho, Phillippa Yaa De Villiers and special guest *STARS*.
Venue: The Bioscope Independent Cinema, 44 Stanley Ave, Braamfontein Werf, Johannesburg
Time: 7.30pm to 9.30pm
Cost: R100
Tel: 011 039 7306
Email: info@thebioscope.co.za
Website: www.thebioscope.co.za
Facebook: @thebioscopecinema | Live Improv Nights 
Instagram: @thebioscope