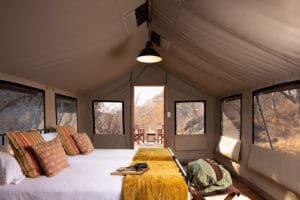 Enjoy a small, intimate safari camp accommodating eight guests in five Meru-style tents at Abelana Safari Camp.
The reserve itself is adjacent to the Greater Kruger National Park and the Selati Game Reserve, close to the town of Phalaborwa in South Africa's beautiful Lowveld – the country's prime big game region.
Owned by the Mashishimale community, the word "abelana" means "to share amongst each other" in the local Northern Sotho language. This spirit of sharing underpins the relationship between the Mashishimale and its lodge operations partner which leases the land for eco-tourism purposes.
Characterised by breathtakingly beautiful landscapes, varied topography and a mixture of vegetation types, Abelana Game Reserve has a 10km stretch of the semi-perennial Selati River in its northern section, as well as numerous other seasonal watercourses.
The safari camp is located in an elevated position in the remote southern part of the Abelana Game Reserve amid spectacular granite outcrops known locally as "koppies" and overlooks a large watering hole below the camp's expansive viewing deck.
The Meru-style tents are simple yet comfortable and well-appointed, offering an authentic safari experience. The tents are all equipped with beds offering a twin or king-size configuration with lighting provided by solar power. The menu is a set affair, but the site try and cater to individual preferences provided they have prior notice of dietary requirements at the time of booking.
Address: Abelana Game Reserve, R71, Phalaborwa, Limpopo
Tel: 061 952 4302
Email: info@abelanagamereserve.com
Website: www.abelanagamereserve.com/abelana-safari-camp/
Facebook: @abelanagamereserve
Instagram: @abelanagamereserve