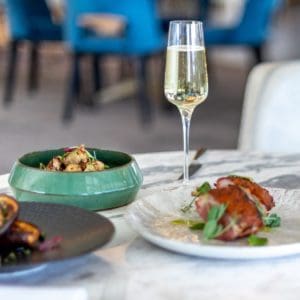 Chef Freddie Dias' new venture, Séjour Restaurant, is located within Johannesburg's Houghton Hotel and has panoramic views of the Houghton Golf Course.
A visit to Séjour is a culinary milestone to experience again and again. It's the amalgamation of Freddie's culinary journey with innovative tastes from around the world and with no two dishes alike.
The Crispy Calamari dish is an ode to Chef's mentor, Luke Dale Roberts. Vibrant Asian flavours of lemongrass and ginger elevate the taste impression of this masterful seafood dish. A place for everything, and everything in its place. The Strawberry and Olive dish was inspired after time in France and Freddie was inspired to bring this dish to life on Séjour's menu. Turning a simple snack to an art form, this dish consists of dehydrated olive, goat's cheese cremeaux, and strawberry granita. The perfect balance between sweet and savoury.
Address: Lloys Ellis Ave, Houghton Estate, Johannesburg
Times: Tuesday to Saturday from 12pm to 4pm and again from 6pm to 10pm | Sunday 12pm to 4pm
Tel: 011 032 5535
Email: info@sejour.co.za
Website: www.sejour.co.za
Facebook: @SejourSA
Instagram: @sejour_sa