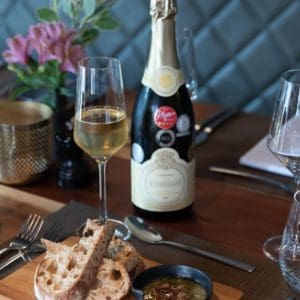 Basalt is a contemporary fine-dining restaurant led by chef-in-residence Candice Philip and is open on selected evenings each week. It is situated at The Peech Hotel in Melrose, Johannesburg.
One of South Africa's best-loved chefs, Philip is highly regarded for her skill and passion. Her grace and reverence for her craft are widely appreciated by her professional peers and followers, who honour her industry accolades and achievements. Chef Candice has inspired many local and international diners with her significant attention to detail and delicate balancing of simplicity with sophistication.
Basalt is an intimate, sophisticated dining space with a menu that features modern classics with seasonal inspiration. The restaurant was recently awarded "Best Fine Dining Pop Up Experience 2021" and "Best Fine Dining Restaurant SA" at the Luxe Restaurant Awards by SA Hospitality Council in June 2021.
Chef Candice Philip regularly presents a specialist limited menu to give her diners something new, see the Basalt website for the latest offerings.
Address: The Peech Hotel, 61 North St, Melrose, Johannesburg
Times: Wednesday and Thursday evenings | Friday and Saturday evenings
Tel: 011 537 9797
Email: reservations@thepeech.co.za
Website: www.basalt.restaurant
Facebook: @thepeechhotel
Instagram: @basaltjhb