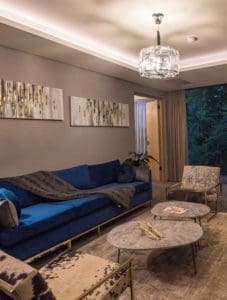 Vivari Hotel and Spa combines a luxurious hotel, spa and aesthetic wellness experience for the discerning guest.
The pursuit of the exceptional is the goal at the unique destination – the only one of its kind in South Africa to incorporate a state-of-the-art aesthetic clinic and hospital as part of its offering. Brought to fruition by the vision of Dr Anushka Reddy, a qualified medical doctor by profession who specialises in aesthetics and runs Medi-Sculpt on the same premises, Vivari Hotel is a true game-changer in the hospitality industry.
Guests can also choose to dine inside within the sleek and stylish setting of the modern restaurants or enjoy the wonderful climate outside on the terrace, beneath the canopy of pecan trees. Culinary philosophy is centred on cuisine that captures the essence of holistic healing and transformation.
Address: 1 Riviera Ln, Featherbrooke Ext 8, Johannesburg


Tel: 010 594 4100
Email:  info@vivarihotel.co.za
Website: www.vivarihotel.co.za
Facebook: @vivarihotel 
Instagram: @vivari_hotel