We all know that convenience is key and a sense of community is vital, especially when you're looking at places to call home. That's why the live-work-play lifestyle is so appealing and successful.
Whether you're looking for a creative space to brainstorm, transient living options, dodge the home-to-office traffic, or a hang-out spot close by, Joburg has some of the trendiest and most comfortable mixed-use neighbourhoods that make living, working, and playing easy.
When it comes to ease, Stuttaford Van Lines offers simple and stress-free moving and removal services to suit your lifestyle. From changing apartments to moving offices, Stuttaford Van Lines guarantees a level of care and expertise that cannot be compared.

WATERFALL CITY
Expect a vibrant, modern city, with state-of-the-art developments in Waterfall City where you can connect every aspect of your life.
Waterfall City is the conveniently located business district of Waterfall and offers urban mixed-use living with residential, retail, hotels, a hospital and green spaces alongside commercial buildings and office parks.
The entire city is centred around the Mall of Africa, the largest single-phase mall in Africa, where you'll find a host of great restaurants for business lunches or corporate entertainment. It is also home to the 1,2-hectare Waterfall Park.
Dubbed a 'mini city' Waterfall City is seen as one of the largest property developments in South African history with a variety of housing options such as secure residential estates, lifestyle estates, single-person housing, townhouses and duplexes, as well as retirement options for the elderly.
Waterfall Cityestates afford their communities the security of early evening bike rides around the neighbourhood, dog walking in parks and even a night-time run for mom or dad.
Interesting places to visit: Waterfall Equestrian Estate, Maropeng, Ama Zwing Zwing Zipline Tour.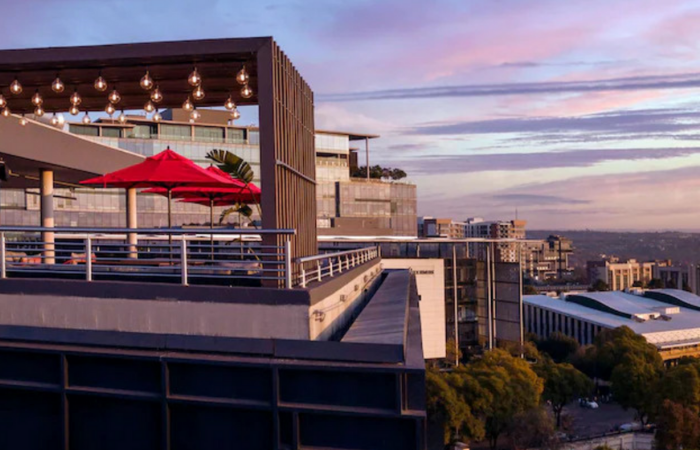 ROSEBANK
Rosebank is the perfect synergy of the old and new with stylish apartment living, blocks of older flats, luxury modern spaces, historic buildings, and newly built glass and steel, eco award-winning office blocks.
Rosebank is a vibrant multi-cultural district, business node and tourist attraction. The mix of cosmopolitan and rustic creates a common ground for professionals, activities and personalised convenience.
Rosebank has easy access to gyms, shopping malls, the Gautrain, hop-on-hop-off bus terminals, a plethora of art galleries, boutique furniture and clothing stores. The suburb's entertainment offerings add to the balance of live-work-play lifestyles.
The area checks all boxes from day-to-day living, great schools around the corner, a bustling social landscape, and a skyline of beautifully contrasting architecture.
Interesting places to visit: Radisson RED Rosebank (pictured above), Keyes Art Mile, Saigon Suzy, A Street Bar Named Desire, Air Space Apartments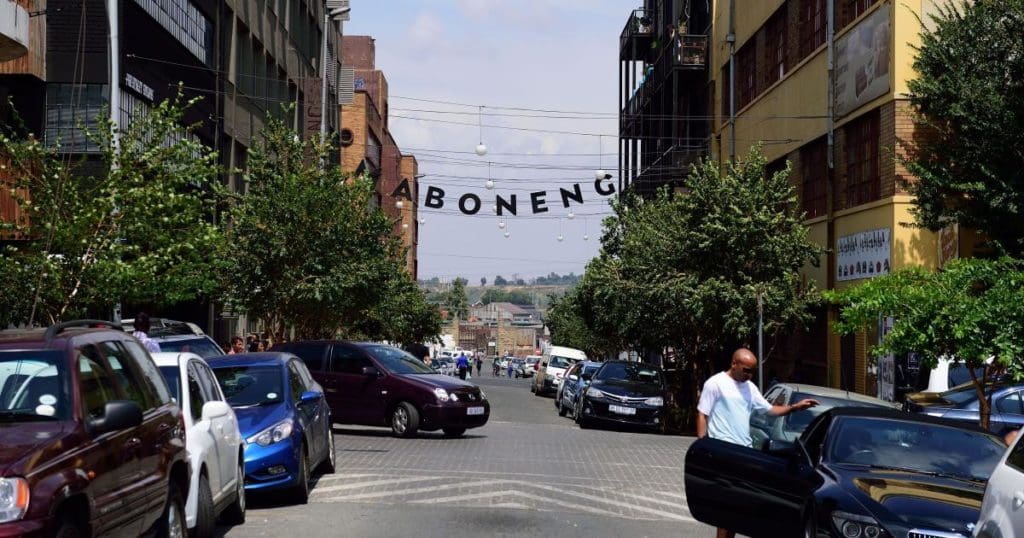 MABONENG PRECINCT
An unconventional mixture of residential loft apartments and penthouse, street-facing shops, and artists' studios, the Maboneng Precinct is a contemporary, charismatic urban space.
The charm of the older buildings that were given a second life adds to the soul of Johannesburg with a community of locals who now live, work and play in the city.
Maboneng used to be a no-go area with derelict buildings but is now a vibrant creative district that attracts a mixed lively and art-going crowd of creatives, students and young professionals for its residential, social, and arts precinct.
Centrally located with plenty of public transport, Maboneng offers trendy accommodation options, art galleries, a theatre and independent cinema, a collection of eateries and markets, and retail spaces that merge seamlessly into the buzz of Joburg street life and breaking down cultural barriers.
Interesting places to visit: Fox Street Studios, 12 Decades Hotel, POPArt Theatre, Main Change.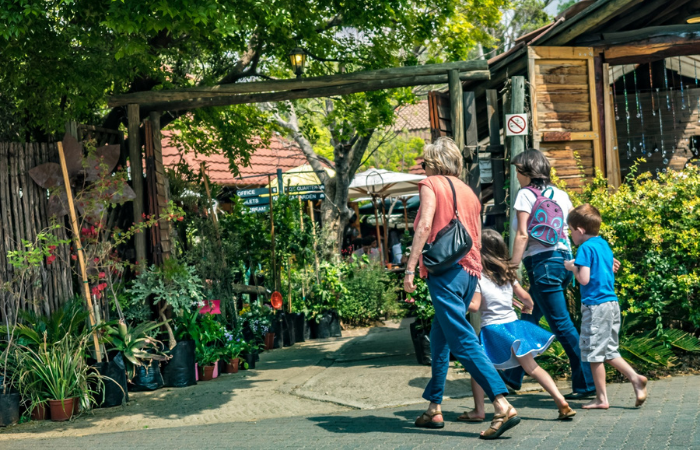 BRYANSTON
Originally part of the Driefontein farm established in 1840, Bryanston has retained some of its country-feel with Braamfontein Spruit, the spacious properties, and the mature trees that line many of these affluent streets.
The sought-after suburb now epitomises convenience and luxury with duplex and apartment buildings, among its popular manicured estates, with extra amenities like clubhouses, pools and shared recreational spaces.
Bryanston offers affordable, premium living spaces close to schools and the big corporates that have sunk roots in the area like Ogilvy, Google, Facebook, GlaxoSmithKline and Dimension Data, making it an ideal home for young professionals, entrepreneurs, and families.
The area also boasts a range of high-end retail options with a variety of activities right on your doorstep – from yoga and fitness to markets and pet grooming.
Interesting places to visit: Bryanston Organic Market, Bryanston Country Club, Zen Hot Yoga, Perron Mexican Restaurant

HAZELWOOD, PRETORIA
The leafy green suburb of Hazelwood in Pretoria's Old East had in recent years been given a new lease on life with developments and upgrades to its business and leisure areas, transforming it into a mixed-use precinct characterised by trendy work-live-play areas.
Coupled with an array of open spaces such as National Botanical Gardens, the Groenkloof Nature Reserve, and The Faerie Glen Nature Reserve, Hazelwood comprises luxury living, lock-up-and-go, executive-style apartments catering to a suburban lifestyle.
This hub is made up of a variety of restaurants, bistros, cafes, pubs, coffee shops, and eateries. Hazelwood's centrality to the city's top entertainment venues with its many movie theatres and art nouveau cinemas, comprehensive games arcade, go-karts, and kids' entertainment, and Sun Arena live performance venue and casino, makes it an ideal space for balanced living, working and social life.
Interesting places to visit: Pretoria Country Club, The Club precinct, Austin Roberts Bird Sanctuary

MELVILLE
Situated just a short distance from Park City, this suburb's neighbourly atmosphere is mainly due to its eccentric mix of residential and commercial properties.
The combination of affordable houses and apartments, quaint, tree-lined streets, and two shopping roads, make this a residential destination that appeals to a mix of students, families and young professionals.
Melville is the perfect location for all sorts of exciting and unique restaurants offering foods for different tastes with some of the most popular restaurants and bars in South Africa situated in the area.
The lively suburb is situated close to the University of Johannesburg and the University of the Witwatersrand, making it the perfect meeting point and general hangout for many students, academics and professionals.
Melville is also a prime destination for visitors who are keen for a bite to eat and a drink.
Interesting places to visit: 27 Boxes, Melville Koppies Nature Reserve

MELROSE ARCH
With aesthetically appealing penthouses, cozy apartments and spacious lofts, Melrose Arch is the definition of African internationalism with a vibrant precinct alive with energy.
Here, you can live, work, workout, eat out, relax, socialise and shop all without leaving the secure setting of Melrose Arch. It is also the ultimate commercial address with the head offices of some of South Africa's leading companies and emerging businesses.
Savour the unique tastes of twenty restaurants and coffee shops on the Square, Piazza and street-sides. A part of Melrose Arch's appeal is its people-friendly meeting places, amazing buildings and curved streets and a vibrant atmosphere that is simply out of this world.
Melrose Arch's new urban design creates a rare quality of in and out-doors residential, commercial, retail and leisure spaces. Bustling with boutique browsers and café culture, Melrose Arch offers a truly international high street fashion experience.
Interesting places to visit: Melrose Arch Hotel, Melrose Square