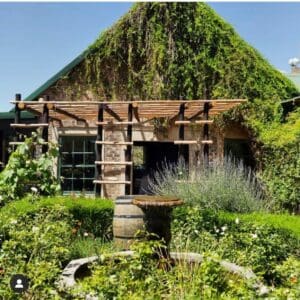 The elegant yet relaxed country setting of Casalinga Organic Farm with its beautiful gardens, fruit orchards and quaint chapel creates the perfect place to celebrate life's important moments.
This farm's diverse offering includes restaurants, a selection of indoor and outdoor function venues, delightful countryside accommodation and artisanal outlets including an onsite coffee roastery, a deli and a bakery.
On a visit to Casalinga Organic Farm, visitors can stock up on household essentials from the deli, buy homemade bread from their talented baker, pick up some fresh produce from the organic vegetable gardens or sample freshly roasted coffee before buying some for home.
For those looking for plant-based, organic cuisine that's light on the earth, yet filled with nutrients and goodness, then Leafy Greens Café is the place. The original restaurant on the property was Casalinga Ristorante Italiano which was established over 30 years ago and its weekend lunches quickly became the place to be.
The Green Bean Coffee Roastery opened on the Casalinga Farm 13 years ago. From a start in the restaurant entrance, the roastery is now located beyond the Chapel, in the organic garden vicinity. The focus is still on "roasting-to-order," prime African Arabica coffees. Owners Iris and Lee have added a small deli and coffee shop menu, which includes great cakes, and bacon rolls (weekends only). All seating is al fresco, under beautiful oak trees and on their open-air balconies. Open Wednesday – Friday, from 8:30 till 4, weekdays and 8:30 till 4 on weekends.
And if that's not enough, make a night of it and stay over in the glorious La Casa Country Cottages, perfect for a romantic getaway for those who need to de-stress and reconnect or for families looking to get out of the city and reconnect.
Casalinga also serves as a wedding, function and festival venue.
Venue: Casalinga Organic Farm, Rocky Ridge Road (off Beyers Naude), Muldersdrift, Johannesburg
Time: Tuesday to Sunday 8.30am to 5pm | Monday 9am to 5pm
Email: enquiries@casalingafarm.co.za
Tel: 010 595 4563
Website: www.casalingafarm.co.za
Facebook: @casalingaorganicfarm | 
Instagram: @casalingaorganicfarm