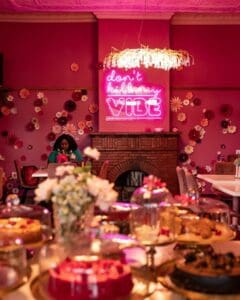 Goddess Cafe is open for breakfast from 8am during the week and serves breakfast, lunch, tea and cake.
With three locations to choose from – Waterkloof, Southdowns or Linden – the Goddess Cafe serves a range of meals and snacks with menu items such as biltong, brie and fig sandwiches, carrot and macadamia nut cake, a range of signature Spanish lattes and even bunny chow. Both the Southdowns and Linden branches also serve pizzas.
Catering offerings include quiches, a selection of platters and cakes. Goddess cafe is also available to book for parties and functions with a selection of dining options as well as an alcoholic drinks menu.
Please note that this space is cash-free and only debit or credit cards are accepted.
Address: Godess Cafe Waterkloof, Shop 6, Waterkloof Corner Shopping Centre, Corner Main and Crown Avenue, Waterkloof, Pretoria | Goddess Cafe Southdowns, Shop 15, Southdowns Shopping Centre, Cnr John Vorster and Karee, Irene, Centurion | Goddess Cafe Linden, 44, 1st Ave, Linden, Johannesburg | Goddess Cafe Rietondale, 217, Soutpansberg Road, CNR Belrene street, Rietondale, Pretoria
Times: Monday to Saturday 8am to 5pm | Sunday 8am to 3pm
Tel: 012 534 3554
Email: info@goddesscafe.co.za
Website: www.goddesscafe.co.za
Facebook: @goddesscafepretoria
Instagram: @goddesscafesa