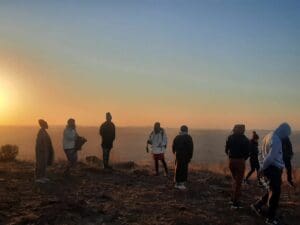 Epic Hikes was born from the passion for the outdoors and the adventure of exploring them. The team really want to spread a love for nature and make people realize that the great outdoors is more than a hobby but a culture. A culture that values adventure and the beauty found in the wildest parts of the earth.
​​Join them as they take the next step and keep exploring without relent. Epic Hikes is excited to build a brand that is worn and carried by many and only created for the passion of exploring – in doing so, coming home to a sense of self is a primary goal.
There will never be a day that Epic Hikes do not want to take a new path, walk on unpaved roads, visit places yet to be discovered and learn new techniques.
What they offer: 
Curated one day hikes in the heart of the cradle of humankind – 58 Cradle (predominantly sunset, sunrise and Sunday hikes).
Weekend hiking and camping trails (Gauteng, Durban, Drakensberg, Cape Town, Lesotho and Namibia).
Team building hiking trails and activities (on request by client).
Tailor-made hiking trails or Private Hikes (upon request by bespoke clients, a group of friends or organization).
Thought-provoking conversation triggers on every Epic Hike, to not only stimulate the mind, educate fellow hikers but also to enlighten them in more ways than one
Hike retreats
Email: info@epichikess.co.za
Website: www.epichikess.co.za
Facebook: @EpicHikesSA
Instagram: @epichikes