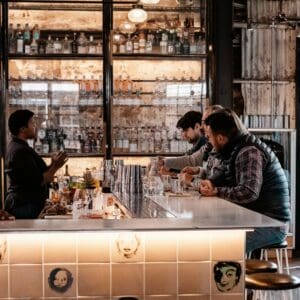 In the heart of Old Johannesburg lies Ginologist Gin Distillery, the brand new home for the popular South African craft gin label. The gin bar in Johannesburg offers great cocktails, tasting, and pairing experiences with a twist as well as intimate tours to their distillery.
Every Saturday, their knowledgeable bar team prepares all the drinks and tasting boards while educating the guest on the craft of gin and pairing ideas.
There is also a guided distillery tour where guests can explore the science behind crafting award-winning gin, rum, and vodka. Guests can also get a glimpse of the library of botanicals and fresh herbal extracts include three go-to flavours profiles; Citrus, Floral and Orient.
All flavours have been awarded gold and silver medals locally and internationally. Ginologist Gin is created by Craft Link Distillery, which also extends its talents to guide and bottle a range of other local micro gin labels.
So far Ginologist Gin boasts an extensive portfolio stretching into non-alcoholic beverages which have become a popular trend across the country.
All distillery visits should be arranged in advance.
Mbali Sibeko
The Ginologist Tasting Board: R60pp
Gin & Nougat Pairing: R 80pp
Gourmet Gin Pairing: R 120pp⁣
Masterclass Gin Blending Session: R350pp
Venue: 1 Fox St, Ferreiras Dorp, Johannesburg
Time: Saturday, 12pm to 6pm
Tel: 081 489 1050
Email: info@ginologist.co.za
Website: ginologist.co.za
Facebook: @theginologist
Instagram: @theginologist