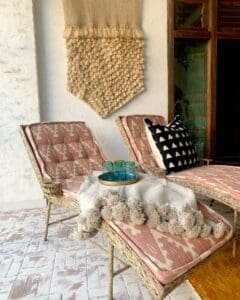 The Storer is a truly impressive brand because of the character, the stories each piece holds in its artistry – that being the sense of adventure! Their homeware and décor offer an epicentre for authentic, ethical and stylish pieces. A hallmark of their appeal that presents sheer quality sourced from around the globe by owner Lisa Storer.
The Storer is not your typical "retail" space. Visitors will be taken on a sensual journey across 400 square metres and can expect inspirational styling and merchandising unique furniture and décor accessories, and the personal touch of Lisa and her team.
"My approach to interiors is to allow the space to speak to you; each space whispers, it is just a matter of listening. I think that it's so important for us as a design studio to constantly evolve, surprise and delight," says Lisa.
A real highlight of the show, where visitors are invited to experience the story of beautiful design that celebrates the heart and soul of artisans and what they have to offer. These days, her newly relocated shop can be found in Kramerville's lower reaches on Dartfield Road (just down from the likes of Lemon and Studio 19).
Where: 19 Dartfield Rd, Kramerville, Sandown
Website: thestorer.co
Email: info@thestorer.co
Tel:064 997 5078
Facebook: @thestorer.co
Instagram: @thestorer.co