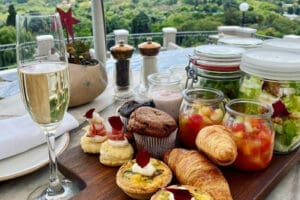 Located inside The Four Seasons Hotel in Westcliff, the Flames Restaurant has a delicious brunch offering.
Situated on a large terrace overlooking the city and Johannesburg Zoo below, Flames is open all day, offering a fixed menu, changing chalkboard specials and a cocktail list to while away the hours as a DJ occasionally spins some tracks.
With a signature breakfast menu, lunch and dinner offerings including an a'la carte menu and a wide selection of wines on offer, Flames is already a widely respected eatery.
As now open buffets are no longer permitted under government Covid-19 regulations, their celebrated brunch menu is now served at the table.
Reservations are mandatory to access all restaurant and bar areas. Unfortunately, no walk-ins are permitted, as part of the endeavour to control comfortable and safe physically distant seating.
Please note that this is a cashless venue and only cards are accepted.
Venue: Flames Restaurant, Four Seasons Hotel The Westcliff Johannesburg, 67 Jan Smuts Ave, Johannesburg


Tel: 011 481 6190
Email: reservations.johannesburg@fourseasons.com
Website: www.flamesrestaurant.co.za
Facebook: @FourSeasonsHotelWestcliffJohannesburg  |
Instagram: