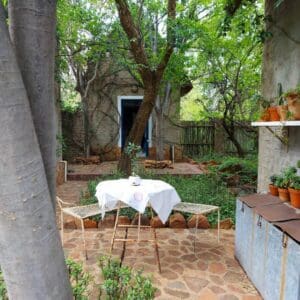 The unique venue JanHarmsgat se Agterplaas, is situated in the historic Oak Avenue, Cullinan.
The team can host weddings, birthday celebrations, corporate functions, and conferences, creatively tailor-made to fulfill visitors' needs.
For couples getting married, the ceremony can be held in the venue's boho-style venue or else select a beautiful, intimate chapel that is within walking distance for a garden ceremony under a tree set up at RustinWhite. JanHarmsgat provides a chic picnic menu, a stunningly crafted feast, which meets the highest culinary demands while professional, friendly staff make guests feel welcome.
Brides-to-be that want a small and intimate wedding reception, JanHarmsgat can accommodate weddings on weekdays, Tuesdays or Wednesdays for weddings smaller than 35 guests.
The venue can also accommodate 50 to 120 people for parties or functions, and the varied refreshments and luncheons are always presented in an original, sophisticated manner. Parties can be themed to meet needs, but the bohemian venue, adorned in JanHarm's incomparable style, is also ideal for creative thinking, planning and team building.
For those looking for accommodation, Gastehys JanHarmsgat is close to beautiful wetlands and next to ZAU Spa in the charming village of Cullinan, Gauteng. This Guesthouse is styled in conjunction with renowned local interior and lifestyle shop Rust in White.
The charming hostess, Annah Msiza, makes each stay as comfortable as possible, but guests have the option of four unique rooms to choose the one that best fits. Each has a private terrace where guests can enjoy a magical sunset with a complimentary sherry, or be greeted by sunrise with complimentary tea, coffee and rusks.
JanHarmsgat se Agterplaas is also available for viewing Monday to Sunday from 9am to 4pm
Where: 88 Oak Ave, Main Road, Cullinan, Gauteng
Website: www.janharmsgat.co.za
Email: Venue hire janharmsgat@mweb.co.za | accommodation info@gastehys.co.za
Tel: 082 255 2465
Facebook: @janharmsgat
Instagram: @janharmsgat_se_agterplaas