Spending quality time with that special someone in your life is the best thing you can do to keep your relationship happy and healthy. New experiences are a great way to reconnect and have fun together. But if you're having trouble thinking of plans that aren't the regular 'dinner and a movie', read on for our top suggestions for interesting date ideas around Gauteng.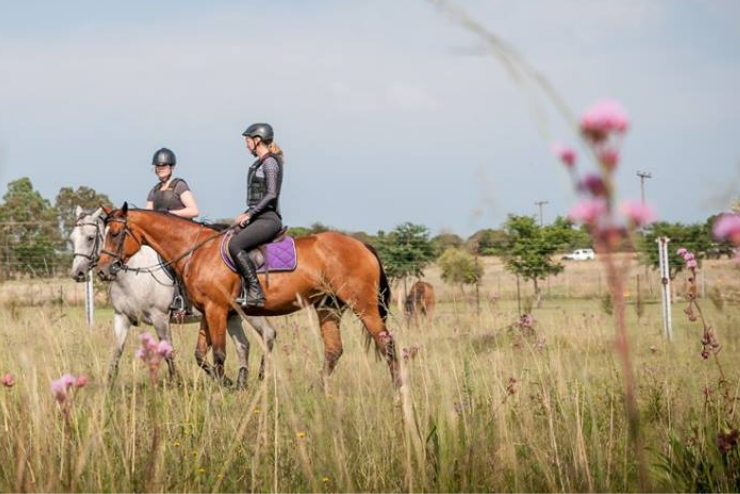 Let love take the reign with a visit to Shepherd's Fold Stables in Lanseria, where you can enjoy the outdoors and enjoy a new hobby together.
Shepherds Fold offers a variety of trail ride options to allow visitors to explore the amazing landscape on horseback and is well equipped to accommodate riders of every level and experience.
The guided trail rides offer a fantastic experience of the picturesque valleys and the trails go through the most beautiful routes, stopping along the way to take in the stunning views of Joburg, the Magaliesburg and the Cradle of Humankind.
Shepherd's Fold also offers horse riding lessons as well as pony camps, and pony rides (for the little ones).
Situated in the lovely Elandsdrift Valley in Lanseria, bordering the Cradle of Humankind, the stables are an easy distance from the suburbs of Fourways, Krugersdorp and Honeydew.
This date idea is novel, exciting and definitely worth a try so saddle up for a great adventure!
Address: 55 Sunset Dr, Lanseria
Time: Tuesday to Sunday 8am to 5pm | Trail Rides seven days a week from 8am to 5pm
Tel: 084 220 2657
Website:  shepherdsfoldstables.co.za | Email: belinda.milsom@gmail.com 
Instagram: @shepherdsfoldstables  | Facebook: Shepherd's Fold Stables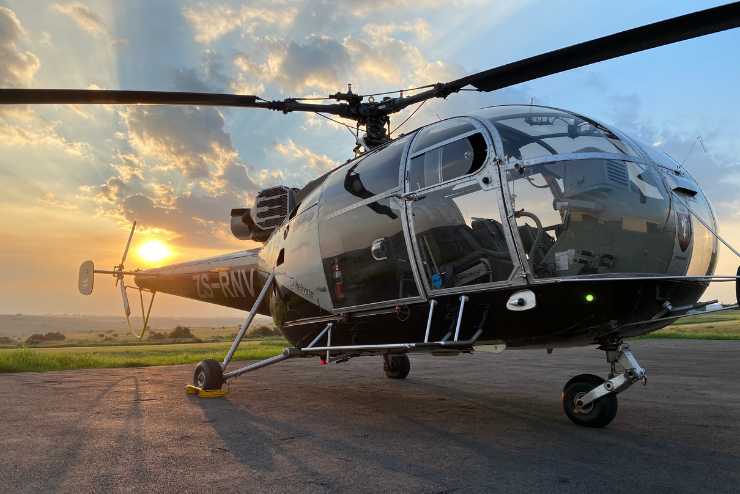 In today's hustle and bustle, we need time to spoil our loved ones, and a trip through the clouds will make anyone feel like they're on top of the world.
Helivate Helicopter Services believes life can't be all work and no play. So they've created a variety of "special helicopter experiences" to share. No matter your personality or budget they have the perfect solution to creating a lasting memory.
Romance, adventure, family, food, fun, nature, wildlife, privacy and even proposals – Helivate have it all. And if they don't they will design it especially for you. For Helivate Helicopter Services, it's all about sharing the joy of helicopter flight and providing the perfect moment for you to enjoy with the special people in your life.
Check out all the fun things they have available on their website, keep an eye on the latest offerings on their Facebook page or learn more about their 5-star rating on TripAdvisor.
One awesome option that Helivate offers is the Special Moments Helicopter Package, where couples are invited to sip on a glass of bubbly while admiring the beautiful view of the Magaliesburg  Mountain Range and part of the Joburg skyline from a mountain top.
There are plenty of other date ideas for couples on their website, too, and they also offer various combinations and times to suit your every need so contact them today to plan something special.
Address: Helivate Helicopter Services, Jack Taylor Airport, Krugersdorp Aerodrome, Barta St, Krugersdorp
Time: Monday to Saturday 7am to 6pm | Sunday 8am to 5pm
Tel: 060 969 3317
Website: helivate.com | Email: info@helivate.com
Instagram: helivate_helicopter_services | Facebook: helivatehelicopterservices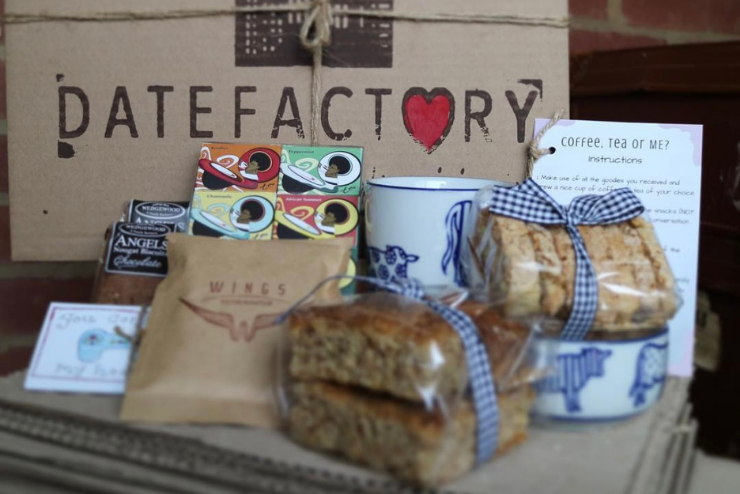 We get it – it's hard to find the time and creativity to plan something special for your partner. One local company has created the perfect solution to this problem to make date night super easy.
Launched in 2016, the team at DateFactory plans, packs and ships a complete date in a discreet box right to your doorstep, anywhere in South Africa. Date night for couples is not a nice to have. It is a must-have. Most people in their busy lifestyles with work and children and everything in between neglect having new and fun experiences with their partners.
This is where DateFactory comes in. They have multiple date boxes with exciting themes to choose from in order to make romance easy. Although the exact contents of each box are a secret, there will always be something to drink, something to eat and something to do. The Belfiore box, for example, features Tic-Tac-Toe so you and your sweetheart can take a trip down memory lane with an adult spin! It also features some awesome Mexican food ideas to make together and great conversation starters to create some intimacy in your relationship.
Whether you want a once-off date experience or a subscription service to make every date night memorable, DateFactory has you covered – and they offer gift vouchers and digital dates that go directly to your email once ordered so a divine date has never been easier.
Website: datefactory.co.za |  Email: info@datefactory.co.za
Instagram: @datefactory |  Facebook: datefactory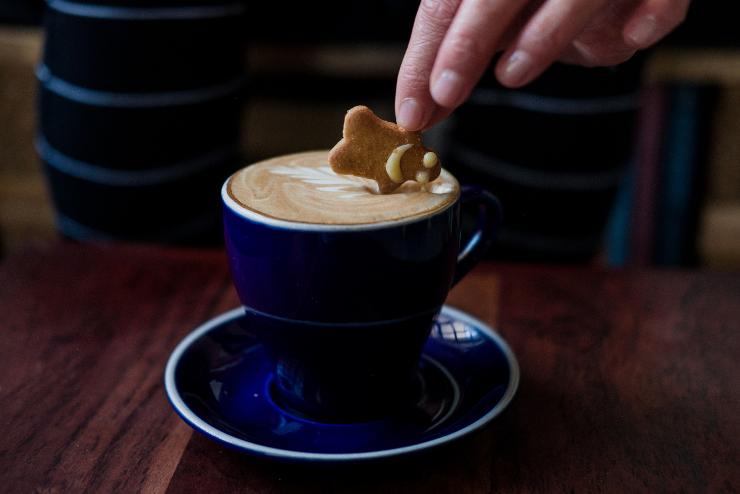 The key to any successful relationship is communication, but the stresses of everyday life mean we don't always take the time to sit back, relax and have a good conversation with our beloved.
Thankfully the beautiful Grounded At Echo in Pretoria is the perfect coffee spot to encourage chats and laughter! This café was created in 2014 to be a space in the Moot area where people could relax, chat, eat good quality down-to-earth food, drink great coffee, and feel at home.
And while this beautiful space is a great place to spend time with your love, they make a point to share the love with others too! Product integrity and business transparency are at the very heart of this business and it is the Grounded vision to generate sustainable social profit alongside financial profit through social entrepreneurship and ethical business practices.
To this end, they use quality ingredients, charge reasonable markups and pay fair wages. Grounded also actively engages in the community and invests in team members' personal and professional development to bring the public a product that you can enjoy; knowing that you are engaging in positive change for South Africa and its people.
Address: Shop 1, 353 24th Ave, Villieria, Pretoria
Time: Monday to Friday 6am to 4pm | Saturday 7am to 2pm
Tel: 012 329 0159 | Whatsapp 073 826 5645
Website: groundedat.co.za |  Instagram: @grounded_at_echo
Email: contact@groundedat.co.za |  Facebook: groundedatecho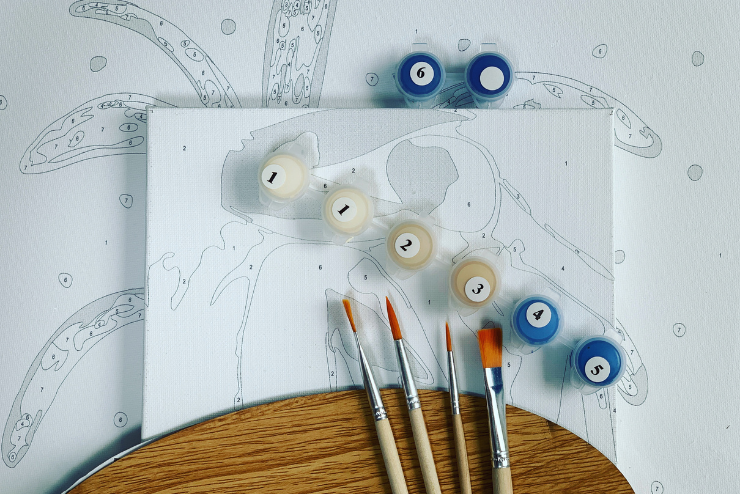 Paint by Numbers South Africa is the ultimate all-in-one art kit that allows everyone to experience the joy of painting from the comfort of their homes – meaning it's the perfect plan for a more intimate date!
Each fun kit consists of a printed canvas, paint, and paintbrushes – everything you need to create a masterpiece on the spot – beautiful enough to display with pride. The numbers on the paint pots and the canvas correspond, making it easy to just lose yourself in the act of painting.
The company prides itself on supplying high-quality products and a wide selection of often unique pictures to paint. This activity allows you to finish something you find beautiful, and while it is wonderful to do by yourself, you can also share it as a fun activity with your partner or family.  It is the ideal way to try painting, especially if you have no previous experience.
The website contains a large selection of canvasses with different sizes and levels of difficulty. To bring in a local flavour, they have launched their own unique South African canvases, including pictures by famous artists like Irma Stern and Pierneef, as well as beautiful South African images, like Table Mountain, Hermanus, Johannesburg and the Karoo.
Paint by Numbers South Africa delivers nationwide via courier or Postnet (and in outlying areas) so you can be painting your masterpiece in no time for your next date night!
Website: paintbynumbersza.co.za | Email: paintbynumbersza@gmail.com
Instagram: @paintbynumbers_za |  Facebook: paintbynumberssouthafrica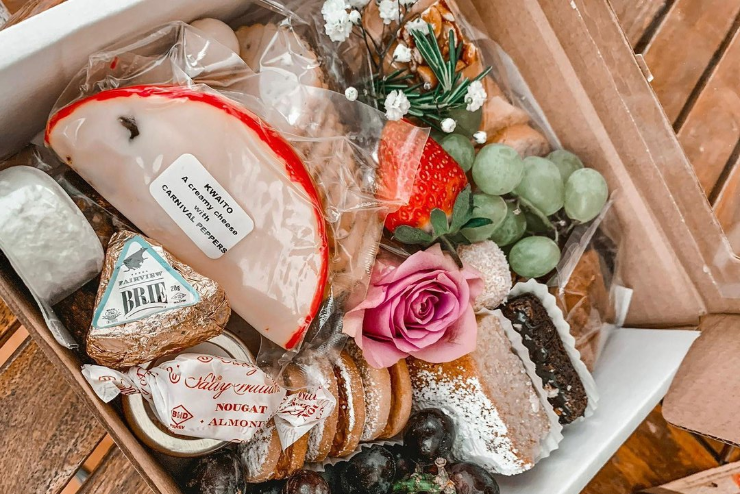 As you and your partner paint up a storm, you may find yourselves getting hungry.
Thankfully The Cheese Cake, the beloved Jozi-based caterer and supplier of Cheese Cakes for weddings and other functions, has created the perfect date night solution – their range of Graze Boxes made with love for those in love.
The Covid-19 pandemic created a new opportunity for their delicious cheeses, savoury and sweet snacks to be delivered to your home for your own private event!  Homemade with love, these Graze Boxes are jam-packed with goodness.
Although the range features boxes of various sizes, there are a couple of options that will suit date night perfectly – including the Graze Box to share (which includes cheese, biltong, droëwors, dried fruit, nuts, crackers, fresh fruit and homemade treats), the Tea Time Dessert Box (with chocolate brownies, caramel biscuits, homemade ruffles, seasonal fruit, cheese, fig preserve and garlic and herb crostini) and Vegan and Vegetarian Luxury options are also available on request.
You can also contact The Cheese Cake to custom create a very special Graze Box for your own date plans!
Website: thecheesecake.co.za |  Email: maria@thecheesecake.co.za
Facebook: theweddingcheesecake