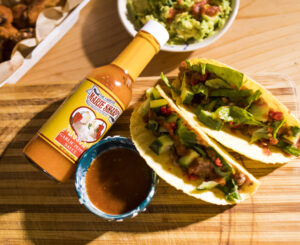 Marie Sharp's is the favourite Habanero pepper sauce in more than 30 countries and is owned by the legendary 'Queen of Habanero', 80-year-old Marie Sharp from Belize.
During a family holiday to Belize in 2016, Weaver recognised a winning flavour in the hot sauce category. Today you can find the range in many delis, Spar and Pick n Pay stores throughout South Africa and Namibia. 
The Green Nopal Cactus Habanero Pepper Sauce is unique thanks to the cactus plant extracts which is prominently grown in Central America. The Nopal is well known for its treatment of diabetes, high cholesterol, obesity and hangovers. It's also touted for its antiviral and anti-inflammatory properties.
Marie Smoked Habanero is made from peppers which are smoked using four different types of fruitwood; Craboo wood, Grapefruit Wood, Guava wood and Orangewood. This gives the sauce its amazing, intensely smokey flavour.
The Red Hornet is an exciting new cultivar, especially developed and grown by Marie Sharp's. It is a blend of the Trinidad Scorpion and the Red Habanero. This new sauce is by far the hottest in the range and is definitely not for the faint-hearted. Like all Marie Sharp's Sauces, it still carries immense flavour together with the fiery hot heat.
All sauces are manufactured from farm-fresh fruits, vegetables and spices and organically grown in Belize. 
The label uses carrots as the base for all her sauces and this provides an excellent balance for the heat of the habanero's creating a natural sweetness to carry the heat. No preservatives, oils or artificial ingredients are added.
Marie supports female employment in Belize and her factory is made up of 90% female employees. This ethos ties in nicely with South African businesswoman Lauren Michelle Weaver,  who is increasing the label's footprint locally and in the rest of Africa.
Tel: 082 781 1497
Email: lauren@mariesharpsafrica.com
Website: www.mariesharpsafrica.com
Facebook: @mariesharpsafrica
Instagram: @mariesharpsafrica
Twitter: @mariesharpsafr