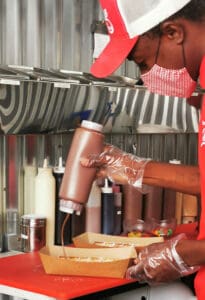 The Crêpe Van in Randpark Ridge is a new adventure, with something yummy for everyone and with so much to choose from. Delicious crepes, waffles, sundaes and soft-serve with a range of different toppings to choose from.
Their crêpe selection includes: original (with sugar, lemon juice, cinnamon and with cream or ice cream), Nutella, strawberry and Nutella, banana and Nutella, apple strudel, peanut butter, banana & caramel and Sweetiepie. Also two savory options (the breakfast and the Mexican) on offer.
Waffle selection: plain, bacon bits & maple syrup, strawberry & Nutella, banana & Nutella, apple crumble, Oreo cookies & cream, banoffee or peppermint crumble.
Ice Cream Sundaes with a choice of toppings and sauces and ice creams (wafer or sugar cone) with toppings.
The Crêpe Van is located at the Eagles Landing Shopping Centre.
Venue: Eagles Landing Shopping Centre, Christiaan de Wet Rd, Randpark Ridge, Johannesburg
Time: Tuesday to Friday 10am to 5.30pm | Saturday 8.30am to 4pm | Sunday 9am to 3pm
Website: thecrepevan.co.za
Email: info@thecrepevan.co.za
Tel: 027 794 7295
Facebook: @crepevaneagleslanding
Instagram: @crepevaneagleslanding