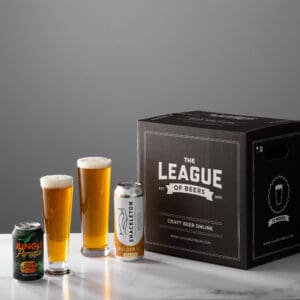 The Beverage Club offers a range of premium drink boxes including local beers, wine, vodka, gin, tequila and more.
They offer got a mixed spirit tasting box that features 24 different mini spirits – six gins, three vodkas, three brandies, three rums, three whiskies, three agave spirits, and three aperitifs.
More of The Beverage Club's favourites are their Mystery Gin Box, the Agave 5 Collection, and a selection of curated wine boxes. 
The League of Beers is also back and offers beer-lovers a subscription service. After rigorous scientific research, The Beverage Club has rounded up the best of the best innovative, tried and tested, and limited edition craft beers around and can't wait to share them with customers.
Whether customers are looking for a gift to blow someone's socks off or want to keep the bar fridge fully stocked, there is no better way to celebrate beer o'clock than with a booze-filled adventure that arrives on the doorstep each month.
For the month of March, the League of Beer offerings has sourced a good mix of session beers and out-there beers. On the easy and session side, they have the Fokof Lager along with the Super Crush from two more well-known brewers. Then they break away with the new Nova Beer Project and Jump Brewing's Endless vibrations. They then have two once-off, limited beers from On Tap (Lucy Corne) and something crazy from The Kennel Brewery.
How League Of Beers Works
– Select an order size. Enjoy a new selection of six, twelve, or twenty-four beers delivered fresh to the doorstep every month.
– Choose a membership type. Get a month-to-month, six months, or twelve-month subscription. Whichever choice is made, it can be cancelled at any time.
– Choose between three subscription options:  Month-to-Month (after the first box, subscribers will be billed monthly until they cancel the service), Six Month Gift (providing six months of beer-filled fun) or a Twelve Month Gift.
– Visit the Beverage Club website to sign for the League of Beers subscription offering of choice.
Email: brand@spacebetweendrinks.com
Website: thebeverageclub.co.za
Facebook: The Beverage Club ZA
Instagram: @thebeverageclubza