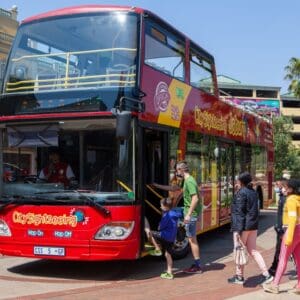 Be a tourist for a day in your own spectacular city with a sight-seeing adventure on City Sightseeing Johannesburg and Soweto. 
The famous open-top bus tour starts and ends at Rosebank, passing through over 20 of Jozi's historic neighborhoods and fascinating attractions. There are 2 safely located routes to try, both connecting at Constitution Hill. 
The Green Tour passes through the leafy suburbs around Zoo Lake and includes the Zoo lake, the Johannesburg Zoo, and the Military Museum, before reaching Constitution Hill.
Hop on and try the Red Tour for an inner-city journey to the 'Roof of Africa' viewing deck on the 50th floor of the Carlton Center, the James Hall Museum of Transport, Gold Reef City Theme Park, and the Apartheid Museum before returning to Constitution Hill via Newtown and ultimately back to Rosebank.
You can choose to explore at your own pace and get on and off as much as you like or stay on board for the full circuit. Combo packages are also on offer where you can pair lunch or snack offers from restaurant partners with your experience.
A 2hour tour of Soweto can also be added to your experience. This guided trip ventures past Africa's biggest stadium in Africa, Hector Pietersen Memorial in Orlando West, the famous Vilakazi Street, Orlando Towers, a colourful landmark popular for bungee and base jumping and abseiling, and other important landmarks.
Time & Departure: Selected days, bus departs a 9am from The ZONE @ Rosebank/Rosebank Gautrain Station. See timetable here
Website: citysightseeing.co.za/en/joburg
Email: info@citysightseeing.co.za
Tel: 021 511 6000
Facebook: @citysightseeingssouthafrica
Instagram: @citysightsseeingsa