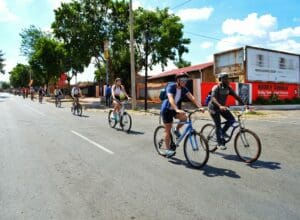 Lebo's Soweto Backpackers are running a special offer for South Africans and local residents to explore Soweto with one of their summer Bicycle, Tuk Tuk, and Walking tours until 28 February 2022.
This morning or afternoon guided tours are family-friendly and suitable for all ages and fitness levels. Hop on a Tuk Tuk, or go for the cycling or walking tour to get in some light fitness.
Along the journey, you'll pass historical sites and get some interesting background info from a knowledgeable guide. Go on an adventurous journey into some of the most famous historical sites, vibrant street corners while tasting popular street foods and snacks to get an authentic Soweto vibe. Get a unique 360-degree panoramic view of Soweto from the top of "Leboland"- our campsite, farm, and garden project.
Lunch is included in the tour and features a hearty Chicken Stew, Beef Curry, or vegetarian potjiekos made fresh with vegetables grown in the venue's own garden, and served at their Outdoor Restaurant. Private tours are also available, and special rates apply for families and kids.
NB: All tours need a min of 2 people per booking.
Cost: Bicycle Tours, 2.5hrs R390pp; 4hrs R550pp | Tuk Tuk Tours, 2hrs R450pp; 4hrs R590pp | Guided Walking Tour, 3hrs R300pp. Rates are valid until the end of February. 
Time: Daily, at 10am or 1pm
Website: sowetobackpackers.com
Email: lebo@sowetobackpackers.com
Tel: 081 524 2918
Facebook: @lebobp
Instagram: @sowetobybike