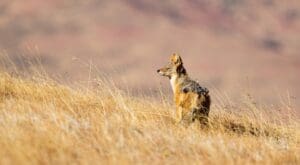 The Golden Gate Highlands National Park is nestled in the rolling foothills of the Maluti Mountains of the northeastern Free State.
The park derives its name from the brilliant shades of gold cast by the sun on the park's sandstone cliffs, especially the imposing Brandwag rock, keeping vigil over the main rest camp.
This 11 600 hectares of the Golden Gate Highlands National Park is true highland habitat, providing a home to a variety of mammals – black wildebeest, eland, blesbok, oribi, springbok and Burchell's zebra – and birds, including the rare bearded vulture (lammergeier) and the equally rare bald ibis, which breed on the ledges in the sandstone cliffs.
Ribbokkop, the highest point in the park, reveals a breathtaking tapestry of red, yellow and purple hues as its warm shades merge with the cool mountain shadows towards evening.
The park is a real highlight for visitors to the Free State. Popular attractions include the vast, colourful sandstone formations, which shine golden-yellow in the evening sun, and from which the area derives its name. Vegetation in the Golden Gate Nature Reserve consists mainly of wooded ravines, gullies and grasslands.
Venue: Off the R712, Clarens, Free State
Time: Gates open daily from 5.30am to 6.30pm
Cost: free entrance
Tel: 058 255 1000
Email: sanparks.org@gmail.com
Website: www.sanparks.org
Instagram: @sanparks
Facebook: South African National Parks