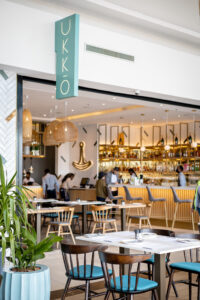 Ukko is a modern culinary experience unlike any other. Self-described as MediterrAsian, Ukko prides itself on its creative fusion of many beloved flavours from across the world. If you are craving Tapas, Sushi, a good glass of wine or a gorgeously crafted cocktail, look no further than this Bryanston culinary powerhouse. 
Ukko is unique for a lot of reasons, its artistic presentation, both in its dishes and its decor, evokes a true sense of modernity, with undertones of a traditional Mediterranean palette. The atmosphere is so lively at Ukko its tangible, leaving you feeling like you're sitting in a gorgeously decorated Taverna in Mykonos. Nothing about this eatery subscribes to the norm, fusing flavours from different continental origins, to achieve an incredibly one-of-a-kind taste experience.
Whether you're a meat-lover, a seafood aficionado or after some tasty Vegetarian alternatives, you will find yourself spoilt for choice at Ukko. Founder, Mun Manal pays careful attention to presenting a menu with great variety – Camembert in Phyllo pastry, Chicken Dumplings and Grilled Octopus are a few of the expertly crafted delicacies available to sample, each prepared to such perfection, that you would assume it's their lone signature dish.
And whilst the food at Ukko is salivation worthy, if you're looking to grab a drink with friends, then this establishment is certainly equipped to get the good times rolling. Offering a massive selection of the finest wines and an equally impressive roster of creative cocktails. Whether you're hungry, thirsty or a bit of both, you'll not regret popping into Ukko. – Michael Joannou
Venue: Shop U24, Nicolway Shopping Centre, Bryanston, Sandton
Time: Tuesday to Saturday 11am to 10pm; Sunday to Monday 11am to 9pm
Tel: 010 335 0770
Email: info@ukkorestaurant.co.za
Website: ukkorestaurant.co.za
Instagram: @ukkorestaurant
Facebook: @ukkorestaurantsa