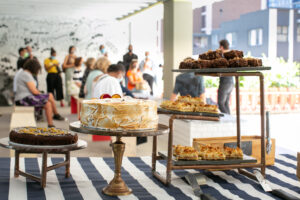 The Playground changes the way weekends are spent in Joburg.
The Saturday Neighbourgoods Market in Braamfontein, is a city institution and a magnet for local and international visitors. Since its founding, the market had seen almost 2-million visitors pass through its alleyway entrance, changing the way people experienced the city, and creating a landmark for the district of Braamfontein.
In late 2021 The Playground opened at the same location – at 73 Juta Street – to again change the way that weekends are spent in Joburg.
Co-founder of Neighbourgoods Market Adam Levy is the force behind The Playground, a creation of his company Play Braamfontein, which started 18 years ago. While The Playground is a new venture it's shaped by the values that this urban development company holds fast.
Levy has brought together a team of specialists to curate every aspect of the experience – combining food, art, design, fashion, and music.
Exactly what its name suggests, this is a place to spark the kind of joy and connection. The Playground is a considered space, playing host to a regular artisan Market on Saturdays with a menu of gourmet street food and cocktails, and starting in 2022, on Sundays, live music performances. This is not just a market space – it is as focused on the visitor experience as it is on creating a platform for exceptional young talent in Joburg.
This is a cashless establishment.
Venue: 73 Juta St, Braamfontein, Johannesburg
Time: Saturdays, from 9am to 6pm
Cost: Free entrance from 9am to 11am | R20 (card only) from 11am to 6pm
Tel: 060 890 4501
Email: info@theplayground.co.za
Website: playbraamfontein.co.za
Instagram: @theplaygroundjhb
Facebook: @theplaygroundjhb