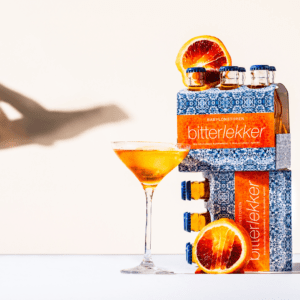 Babylonstoren has launched its new non-alcoholic aperitif bitterlekker – a locally crafted drink with a slightly bitter edge to wake the palate.
Babylonstoren is one of the oldest Cape Dutch farms, set at the foot of Simonsberg in the Franschhoek wine valley. It has a fruit and vegetable garden of beauty and diversity, unique accommodation and fine food and wine.
Bitterlekker is a bittersweet symphony of herbal notes and zesty citrus, including blood orange, grapefruit and the lingering bitterness of orange peel. Also included in the mix is Babylonstoren honeybush tea, giving bitterlekker a lovely, dry finish. The complex taste was perfected after testing no fewer than 27 recipes – the final product contains 17 ingredients, of which one is a well-guarded secret.
With its unique infusion of blood orange and a secret blend of garden botanicals, this sparkling non-alcoholic aperitif captures the spirit of the Cape Floral landscape in each sophisticated sip.
bitterlekker is a non-alcoholic drink containing less than 0.5% alcohol and comes in a six-pack of 100ml bottles. It can be enjoyed as a refreshing spring drink over crushed ice in a long-stemmed glass with a slice of blood orange and a sprig of rosemary.
SPECIAL OFFER: For February Only – get a free six-pack of bitterlekker with every three packs bought online, plus a limited-edition carrier bag. Free delivery on all orders in February.
Tel: 021 300 3919
Email: deliveries@babylonstoren.com
Website: babylonstoren.com
Facebook: @Babylonstoren
Instagram: @babylonstoren