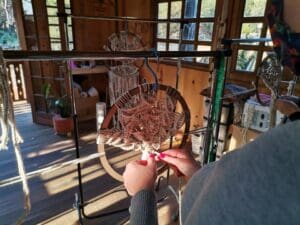 Macrame & Co has been teaching macrame classes since August 2019, to introduce keen crafters to a new creative hobby. Since then they have built a small but wonderful community that is passionate about the craft.
This centuries-old fiber art is a calm and therapeutic way to unwind after a busy week, as you focus on creating different macrame knots.
A variety of regular themed classes are on offer here students can learn how to make boho macrame wall hangings, mirror mandalas, plant hangers, cat hammocks, and other interesting accessories.
During each class, founder Kim offers focused guidance and attention while you learn a series of macrame knots and patterns to make your own item to take home.
All materials are included, and all levels including complete beginners are welcome to attend. Private lessons, birthday parties, and kitchen tea party events are also on offer.
The workshops are held at Salvage Venue, a unique urban backyard venue built mostly from salvaged materials.
Upcoming Classes:
– Cat Hammock Workshop, 19 February 2022, R700pp incl cushion
– Small Macrame Wall Hanger Workshop, 19 February 2022,
– Macrame Plant Hanger Workshop, 26 February 2022, R490pp
– Vine And Wine Macrame Workshop, 12 March 2022, R650pp or R750pp
– Macrame Wall Hanger Workshop, 19 March 2022, R590pp
Time: Selected Saturdays, from 12:30pm to 3:30pm
Venue: Salvage Venue, 2 Johan Rd, Honeydew, Johannesburg


Email: macrame.kimandco@gmail.com
Facebook: @macrameandco
Instagram: @macrameandco_za