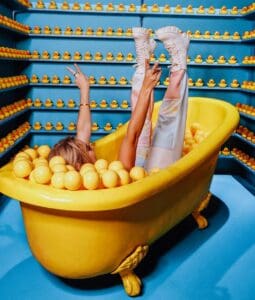 InstaNation is an interactive exhibition, a hub for creativity and curiosity.
A social media playground with 33+ artistic installations a place where friends and family can have fun capturing amazing imagery. A general admission ticket allows visitors to spend 60 minutes exploring the space.
Changing cabins and beauty stations throughout the venue for visitors to achieve the perfect look.
This Rosebank-based business hosts birthday parties, group bookings and corporate events. The venue can also be hired privately for video shoots.
InstaNation is located inside Rosebank Mall and is open seven days a week.
Tel: 010 203 9477
Email: info@instanation.co.za
Website: instanation.co.za
Facebook: @InstaNationza |
Instagram: @instanation_za
Twitter: @InstaNation_