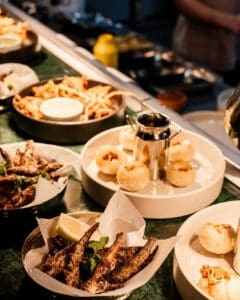 Modern Tailors Restaurant & Gin Bar is an interesting and bold addition to Indian restaurants in Johannesburg. Their concept is a modern, stylish, and not to mention a tasty tribute to the vibrant flavours of Indian cuisine.
They serve dishes from all over India with a menu devoted to street food and divided into small plates, grills, curries, and a few vegetarian options. Expect a mix of familiar favourites such as the Tandoori chicken, biryani, and Durban Lamb Curry as well as less-common choices like the Sri Lankan Chicken, okra fries, and pani puri, an Indian street food classic. 
Modern Tailors is located in Rosebank, giving it a contemporary and central outpost. The interior is fitted out with modern and minimalist accents of olive and earthy tones, atmospheric lighting, and vintage Indian artefacts.
For now, they're still waiting on a liquor license, so BYO is on offer with no corkage fees. Alternatively, you can try one of the non-alcoholic drinks. We'll update once the gin menu and wine list are unveiled.
Venue: The Zone @ Rosebank, 177 Oxford Rd, Rosebank, Johannesburg
Time: Sunday to Monday, 11am to 9pm; Tuesday to Saturday, 7am to 10pm
Tel: 064 647 0438 (WhatsApp)
Website: moderntailors.joburg
Email: info@moderntailor.co.za
Facebook: @ModernTailorsZA
Instagram: @moderntailors_za