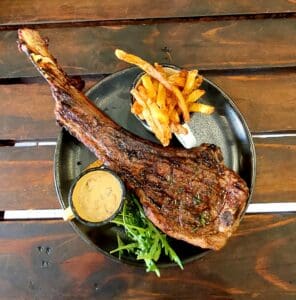 The Braai Room is the flagship home of Country Meat, a family-owned and managed ethical butchery. This steakhouse restaurant in Johannesburg serves a selection of farm to fork grilled meats cooked perfectly on their ​​wood-fired rig.
The farm where Country Meat sources its produce is located just outside of Kroonstad, a region renowned for exceptional beef farming. They follow sustainable farming practices as a priority and ensure the highest standards and quality products.
The Braai Room specialises in a uniquely South African braai experience through their lunch and dinner menu for dine-in or takeaway. There is something for everyone including freshly braaied steaks, salads; Boerewors rolls, burgers, Shisa Nyama, and other grill favourites. A pizza, breakfast and a kids menu are also available.  
The Lonehill branch offers both indoor and outdoor seating under the shaded pergola for great views over the Lonehill koppies and dam. Kids can play to their heart's content at the well-positioned play area with a water fountain.
Venue: Lonehill: Lonehill Shopping Centre, Lone Hill, Sandton | Little Falls: Retail Crossing, Cnr of Nic Diederichs and, Hendrik Potgieter Rd, Wilgeheuwel, Roodepoort
Time: Lonehill: Tuesday to Saturday, 8:30am to 9pm & Sunday to Monday, 8:30am to 8pm | Little Falls: Monday to Friday, 11:30am to 9:30pm, Saturday, 9am to 9:30pm & Sunday, 9am to 9pm
Tel: 010 800 2919
Website: braairoom.co.za
Email: braairoom@cmeat.co.za
Facebook: @thebraairoomcountrymeat
Instagram: @thebraairoom