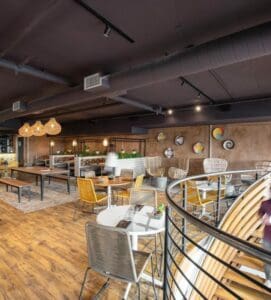 The Grind Greenery & Coffee Company is a specialty coffee shop, restaurant, and coworking space in Melrose Arch that aims to satisfy all your 'coffee and a treat' needs.
Enjoy your coffee with a delicious vegan cake or pastry or treat yourself to a specialty breakfast or lunch in their beautiful open plan space. If you are looking for more privacy to work or have a meeting where you want to know everyone will be able to order something to suit their dietary needs, you can book one of their boardrooms.
A perfect spot to meet a friend or spend your 'work from home' day!
When: Monday to Friday: 6.30am to 6pm | Saturday: 7.30am to 4pm | Sunday: 8am to 4pm
Where: Whiteley Rd & The High St, Melrose, Johannesburg
Website: thegrindgreenery.co.za
Email: grindcoffeecompany@gmail.com
Tel: 072 754 8705
Facebook: @thegrindza
Instagram: @thegrindza