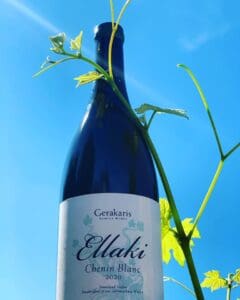 Gerakaris Family Wines is a boutique, fully-fledged winery in the heart of Craighall Park that produces five unique wines as well as offers an intimate wine-tasting experience to visitors.
After deciding that the corporate world wasn't for her, founder Kath Gerakaris completed her qualifications in Viticulture and Oenology. With her freshly minted qualification in hand, she left New Zealand and settled in Johannesburg, where in 2008 she opened Gerakaris Family Wines.
Not only is this winery a perfect place to pick up truly special gifts, but it also offers a relaxing and Covid-safe spot to relax and learn more about the wine-making process from the experts who create it.
The Gerakaris range features their Ellaki Chenin Blanc 2021, the "1242" Syrah 2020, Tom Syrah 2018, Elli Chenin Blanc 2020 and Thomas Syrah 2017. The wines are made right there in Craighall Park, with Gerakaris transporting the grapes up overnight from vineyards in the Swartland and Elgin, Western Cape each harvest.
Wine tasting experiences at Gerakaris Family are available to the public for R100 per person and are hosted in the winery's beautiful gardens. Also on offer is a cheese board that showcases four South African cheese producers and which is designed to match the wines, as well as bowls of Cape olives.
To experience Jozi's one and only winery, bookings are essential as space is limited! Bookings can be done on their website.
When: Wednesday to Friday 12.30pm to 5pm | Saturday 11am to 4pm| Sunday 11am to 2pm
Where: 20 Marlborough Ave, Craighall Park, Johannesburg.
Cost: Wine tasting experiences from R100pp
Website: gerakaris.co.za
Email: info@gerakaris.co.za 
Tel: 072 638 7636
Facebook: @gerakariswines
Instagram: @gerakariswines  
Twitter: @gerakariswines