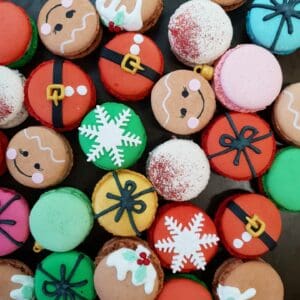 Oh My Cake creates cakes, cupcakes, macarons, brownies and cookies that look like art and taste like dessert.
In 2014, two budding young entrepreneurs were selling cupcakes and macarons at the Neighbourgoods Market in Braamfontein. They didn't know each other. Camilla was working a corporate job in marketing by day and baking hundreds of macarons by night, out of her little oven at home. Naseeha had just finished a Masters's degree in medical science and was testing her cake decorating hobby as a home business, with her domestic worker as an assistant.
One thing they both had in common was a love for creating food art and sharing it with people. On a rainy Saturday in Braam, Naseeha's stall was damaged by a leak, and she had to move. She ended up trading side by side with Camilla, and what started out as a friendly business rivalry slowly grew into two entrepreneurs joining forces and building something special in the form of Oh My Cake.
Six years and many, many lessons, twists and turns later, the Oh My Cake team have built an exciting brand, outgrown two stores and expanded the team from two to 20. Thousands of cakes, cupcakes, macarons, brownies, cookies and more leave the store at Cedar Square every week.
Shop their desserts online and have them at the door within 48 hours, or pop in to visit seven days a week, shop unique cakes-to-go, grab a coffee and watch the team create magic.
Address: Cedar Square Shopping Centre (downstairs, at the Woolies exit), Cedar Road, Fourways, Johannesburg
Times: Monday to Saturday 8am to 5pm | Sunday 8am to 3pm
Tel: 082 076 5789
Email: info@ohmycake.co.za
Website: ohmycake.co.za
Facebook: @ohmycakesa
Instagram: @ohmycake_sa
Twitter: @ohmycake_sa