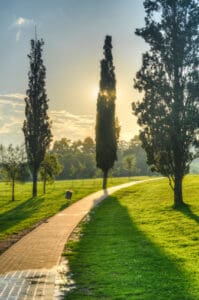 James and Ethel Gray Park in Birdhaven is a beautiful, well-maintained park and bird sanctuary offering panoramic views over the city. The space is great for picnics, dog walking, jogging, cycling or just chilling. On the odd occasion, you might spot a group of yogis doing yoga sessions on the grass.
The 36 hectares started as a bird sanctuary – hence the rather apt name for the suburb closest to the park, and are fed by the Sandspruit River that winds through a series of landscaped lawns, indigenous vegetation, walkways, and benches. 
In 2007 the park received around R5 million upgrade funding and is being kept in good condition with the help of James and Ethel Gray Park function and the local community.
The Katyn Forest Memorial is a simple plaque built in 1981 to commemorate the Katyn Massacre in Poland during World War II is located in the centre of the park and symbolises the bonds between South African and Polish communities.
Venue: Edgewood Avenue &, Melrose St, Birdhaven, Melrose, Johannesburg
Cost: Free entry
Website: jamesandethelgrayparkfoundation.org
Email: sunilgeness@yahoo.com
Facebook: @JEGPF2019
Instagram: @moveinawe