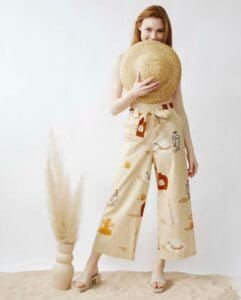 Me&B is a mother-daughter fashion brand that is proudly South African.
Betina and Kelly founded this brand with a strong belief that the fashion industry deserved a shake-up – and that their team of South African designers and craftsmen could be just the people to deliver that something different.
In 2018 they gathered a team of experts who had studied fashion intently, and knew all the rules but also had the right amount of confidence and creativity to be able to deliver something completely new and fresh.
Tasked with proving that high-quality, fashion-forward clothing could be available at fair prices, Me&B created piece after piece that is a testament to their passion for making fashion more accessible to all. The founders see that same excitement, comfort and belief reflected in the eyes of every woman who tries on a Me&B piece.
Me&B delivers fashion that makes the wearer feel comfortable. Both in their body and their style.
Address: 44 Stanley Ave, Braamfontein, Johannesburg
Tel: 072 948 0510
Email: kelly@meandb.co.za
Website: meandb.shop
Facebook: @meandbfashion  
Instagram: @me_and__b